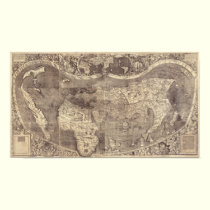 Universalis Cosmographia: Sometimes referred to as "The Birth Certificate of America" or "The Map that Named America", the Waldseemüller Map, Universalis Cosmographia, was the first to affix the name America to the New World, and Waldseemüller and his partner Matthias Ringmann are credited with naming the continents (or at that point, South America) in honor of the Florentine explorer Amerigo Vespucci.
Only a few hundred copies were made. Thought lost for hundreds of years, the sole known surviving copy was rediscovered in a castle library in the early 1900's, where it stayed for another century until the Library of Congress acquired it for 10 millions dollars.
High Resolution image suitable for large or small copies. This is a reproduction of an early Martin Waldseemller map and may have been digitally enhanced to repair flaws, major stains, etcetera. Vintage World Map by Martin Waldseemüller.
Image courtesy of OldBookArt.com. Visit their
Blog
or their
Gallery
to find thousands of other free images and maps from public domain sources.
Many Images are from Books and Maps for Sale at
ZephyrusBooks.com
.