This Baptism postcard features three Scripture verses related to Baptism superimposed on a photograph of a starfish in the surf at Sanibel Island's Gulfside City Park.
The Scriptures read:
I will cleanse them from all their iniquity..." Jeremiah 33:8 KJ/AV
"but ye are washed, but ye are sanctified, but ye are justified in the name of the Lord Jesus, and by the Spirit of our God." 1 Corinthians 6:11 KJ/AV
"arise, and be baptized, and wash away thy sins, calling on the name of the Lord. " Acts 22:16 KJ/AV
The words "cleanse," "washed," and "baptized" are in larger type for emphasis.
Use as a Save the Date card for a Baptism, as a simple invitation, or as an encouraging postcard.
Se pueden comprar also similar en espanol aqui.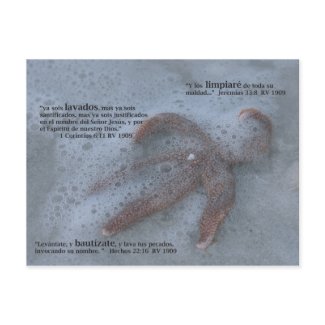 Bautizmo Tajeta Postal
by
versos_de_la_biblia
View other
Christian Postcards