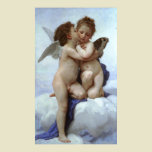 Or, click
HERE
to see a G-Rated version of this image on all available products. (Basically, the G-Rated version eliminates everything below the waist, thus preventing offense at the sight of the prepubescent god's genitalia.)
Bouguereau's painting: Cupid and Psyche as Children (aka Le Premier Baise) 1890
A classic artwork that has passed into the public domain and makes wonderful gifts and other products.
This classical scene is typical Bouguereau in its depiction of a figures from ancient myths. Here we see the figures as babies, exchanging what many interpret to be their first kiss. Along with his interpretations of pastoral French themes, these mythological subjects were among his most preferred.
William-Adolphe Bouguereau (November 30, 1825 – August 19, 1905) was a French academic painter whose realistic genre paintings and mythological themes were modern interpretations of Classical subjects with a heavy emphasis on the female human body.
All of our products are made with large scale images that have been carefully edited to provide the best resolution, color and detail possible. We have tried to make products available in many popular formats, but please contact us via the sidebar link on the
MAIN PAGE
if you need help customizing anything.