In 1939, war with Germany loomed, and the British government wanted to stiffen public resolve and boost morale. An unknown civil servant in the Ministry of Information produced a simple but powerful poster:
Keep Calm and Carry On
. Five words and the crown of King George VI on a red background… a message from the King to his people.
Today, the slogan has reached cult status and the message is as relevant today as it was back then.
Taken from the British government archives, our Keep Calm And Carry On slogan is an exact, high quality duplicate of the original 1939 poster. In fact, it is impossible to reproduce the original text because the font does not exist. The letters in the original poster do not belong to any font type and were most likely handmade. KeepCalmCarryOnShop simply changes the colors of the original poster design. The text and crown that you see are the original text and crown from 1939. It is the authentic vintage poster design.
Shop all of our Keep Calm gifts. We have many Keep Calm and Carry On colors including the original white text on red background plus many more including hot pink , white, blue, green, purple, black and light pink.
KeepCalmCarryOnShop has the best prices on Zazzle!
Shop our store and pick your favorite patriotic British slogan themed gifts at:
KeepCalmCarryOnShop
.
P.S.:
All products are TOTALLY customizable.
You may also like: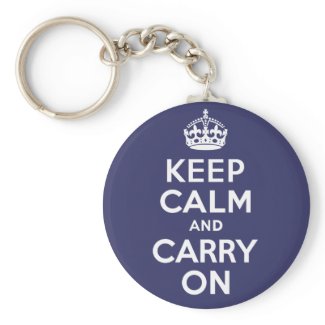 Keep Calm And Carry On. White. Best Price! Keychains
by
KeepCalmCarryOnShop
Check out another
keychain
.