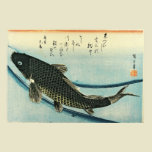 Koi (Carp)

by Utagawa Hiroshige


A classic artwork that has passed into the public domain and makes wonderful gifts and other products.
This is from the famous series "A Shoal of Fishes", showing seasonal fish along with some plants and blossoms. It has been edited and enhanced for this product.
Utagawa Hiroshige (歌川 広重, 1797 – October 12, 1858) was a Japanese ukiyo-e artist, and one of the last great artists in that tradition. He was also referred to as Andō Hiroshige (安藤 広重) and by the art names of Ichiyūsai Hiroshige (一幽斎廣重) and Ryūsai.
All of our products are made with large scale images that have been carefully edited to provide the best resolution, color and detail possible. We have tried to make products available in many popular formats, but please contact us via the sidebar link on the
MAIN PAGE
if you need help customizing anything.
BROWSE THE IMAGES BELOW TO SEE ALL THE IMAGES FROM THE SERIES. CLICKING A PICTURE WILL SHOW ALL THE PRODUCTS MADE FROM THAT IMAGE
* * * * * * *