Personalize your own family recipe cookbook! If you're looking for a great gift for your mom, grandmother or other family member, why not add a collection of family favorite recipes to this personalized cookbook. You can change the last name on the cover and the spine to make it your family's favorites!
A treasured keepsake they are sure to love.
This collage of super secret family recipes will take center stage on your cookbook shelf!
This sample family features some of the best recipes including ...
Aunt Mamie's Chocolate Brownies
Auntie Mary's apple fritters
Aunt Carolyn's corn casserole
Cousin Barbara's caramel brownies
Colleen's chocolate cupcake recipe (inspired by the Magnolia bakery)
Dad's red beans and rice
Joanne's hot chicken salad
Richard's favorite eggrolls
Lesia's steak soup recipe
Maryellen's Green Rice.
Baked with love is on the back. You can change it to your own family motto or other wording. Perfect for gift giving ... a treasured keepsake the entire family is sure to love. Great for: Grandmas Moms Aunts Sisters Sister in law Daughters New Brides College kids ... just about anyone in your family who likes to eat!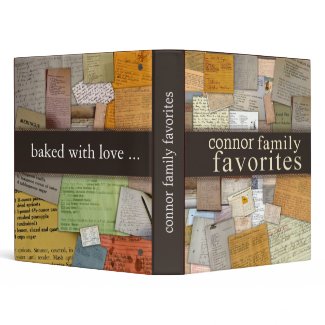 Personalize your own family recipe binder
by
aslentz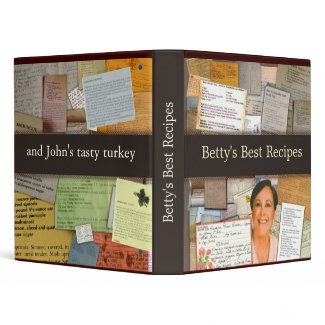 Personalize your own family recipe binder
by
aslentz