"Hyde Park", London 1890, by Camille Pissarro; Soaked color on paper laid on canvas.
Camille Pissarro, 1830 - 1903), was a Caribbean-born French Pointillist/Impressionist Painter. His importance resides not only in his visual contributions to Impressionism and Post-Impressionism, but also in his patriarchal standing among his colleagues, particularly Paul Cezanne and Paul Gauguin.
Camille Pissarro, was one of the founders of impressionism. When he went (1855) to Paris to study painting, he was first attracted to the art of the Barbizon school and to the poetic realism of Camille Corot. Later, Pissarro discarded Corot's dark colors in favor of a more atmospheric treatment of landscape. With Edouard Manet and other avant-garde painters, Pissarro exhibited at the Salon des Refuses (1863), and his link with such impressionists as Claude Monet and Auguste Renoir grew closer in the 1860s.
Pissarro had great influence on the impressionists and their followers, including the neoimpressionist Georges Seurat, whose pointillist technique the older painter emulated after 1886. In his later years Pissarro returned to an impressionistic rendering of landscapes and urban scenes.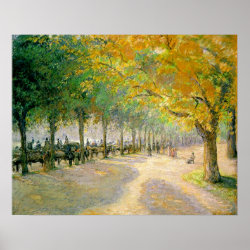 Pissarro's 'Hyde Park' – Poster
by
dchaddad
Look at more Fine Posters at
zazzle