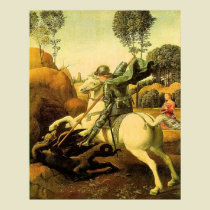 A classic artwork that has passed into the public domain and makes wonderful gifts and other products.
This classic painting shows the knight fighting the beast, which seems about to fall under the lance. A maiden watches as if in prayer. This painting is at the National Gallery in Washington. Another of his paintings by the same name is at the Louvre.
Raffaello Sanzio da Urbino (1483 -1520) also known as Raphael (or Raffaello), was one of the leading Renaissance painters in Italy. Famous for his frescos and other paintings, he was also, along with with Michelangelo and Leonardo da Vinci, an architect.
All of our products are made with large scale images that have been carefully edited to provide the best resolution, color and detail possible. We have tried to make products available in many popular formats, but please contact us via the sidebar link on the
MAIN PAGE
if you need help customizing anything.