Zazzle Bulk Image Uploader
Zazzle's Bulk Image Uploader is a quick way to add multiple images to your account at once. This tool is much faster than uploading images as you create products, and it is particularly useful if your images are only slightly varied from one another. Instead of jumping back and forth between your design software and your Zazzle account, you can create all of your design files first, and then upload them all at once, saving lots of time in between.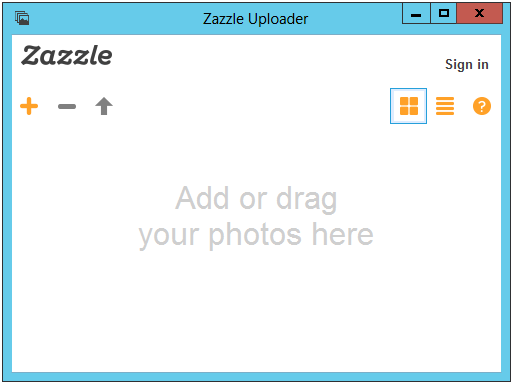 Bulk Image Uploader for Windows:
Requirements
Current version: 1.0.4.4884
Windows XP or later.
1MB disk space
20MB memory
Network connection to zazzle.com
Installation
To install, download the uploader installer. Locate and run the installer ZazzleUploader.exe. On Vista and Windows 7, if it asks to allow the installer to run, allow it.
To uninstall, go to Control Panel, Add Remove Programs (or Programs and Features), and select the Zazzle Uploader program and Remove (or Uninstall).
Download Zazzle Image Bulk Uploader file (exe: 305KB) and get started now.