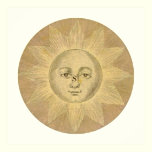 Any background colors are totally customizable. The sun is on a transparent field, so any color you which may be put as the background (just click the Customize button and edit it to change the color).
This is a neat detail from Carington Bowles's New and Accurate Map of the World, or Terrestrial Globe. (The full map is available here as well,
HERE
) This is a really cool map, with all sorts of astronomical and scientific charts and pictures, including an explanation of the seasons, a map of the moon, zodiac and astronomy charts, and more.
High Resolution image suitable for large or small copies. This is a reproduction and may have been digitally enhanced to repair flaws, major stains, etcetera.
The images are reproduced here from very high resolution files, so you can be confident that the quality will remain the best. The images have been edited and cleaned up.
Image courtesy of OldBookArt.com. Visit their
Blog
or their
Gallery
to find thousands of other free images and maps from public domain sources.
Many Images are from Books and Maps for Sale at
ZephyrusBooks.com
.