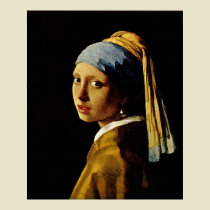 A classic artwork by Johannes Vermeer that has passed into the public domain and makes wonderful gifts and other products.
This is perhaps the simplest yet most famous of Vermeer's paintings. Using his usual palette of basic blue and yellow, he places this figure on a pure black background which removes her entirely from the domestic goings-on of most of his portraits and other work. Known variously as "The Girl with a Turban" or "The Girl With the Pearl Earring" it was lost and heavily damaged over the centuries until it re-emerged ans underwent restoration in the late 19th century.
Johannes (or Jan, or Johan) Vermeer was a Dutch Baroque painter who is known for his distinctive palette of blue and yellow. Van Gogh was influenced and quite intrigued by Vermeer, calling him a "strange painter" whose palette "consists of blue, cornflower yellow , pearl gray, black and white." Vermeer's work typically shows portraits and scenes from domestic life, and he has gone from obscurity to becoming one of the most admired painters of his era.
All of our products are made with large scale images that have been carefully edited to provide the best resolution, color and detail possible. We have tried to make products available in many popular formats, but please contact us via the sidebar link on the
MAIN PAGE
if you need help customizing anything.