4 Year Olds Rock ! Postage
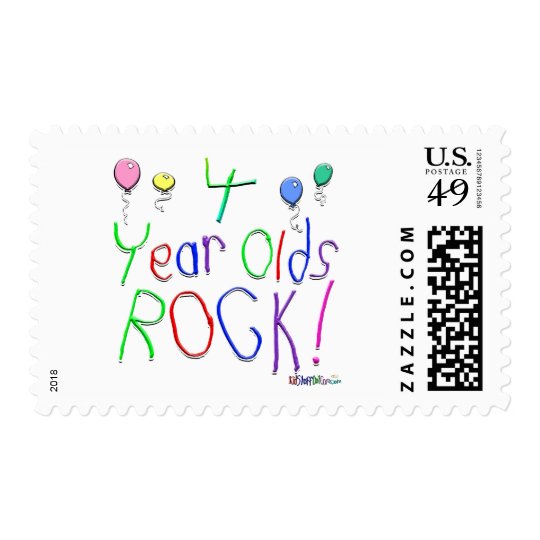 Size: Medium, 2.1" x 1.3"
Make each letter a special delivery with a sheet of Zazzle Custom Postage! Put a personal touch on your mail, or share this useful gift with friends and family. Zazzle's medium custom postage fit especially well on greeting card or RSVP envelopes.
Dimensions:

Landscape - Postage: 2.1"l x 1.3"w; Image: 1.4"l x 1.1"w
Portrait - Postage: 1.3"l x 2.1"w; Image: 1.1"l x 1.4"w

Image aspect ratio: 3 x 4
20 Custom Zazzle Stamps per sheet
Choose from twelve postage denominations:

$0.34: Post Card
$0.49: 1st Class Letter, 1 oz
$0.70: 1st Class Letter, 2 oz or 1 oz odd
$0.91: 1st Class Letter, 3 oz or 2 oz odd
$0.98: 1st Class Large Envelope, 1 oz
$1.12: 1st Class Letter, 3 oz odd
$1.19: 1st Class Large Envelope, 2 oz
$1.40: 1st Class Large Envelope, 3 oz
$1.61: 1st Class Large Envelope, 4 oz
$1.82: 1st Class Large Envelope, 5 oz
$2.03: 1st Class Large Envelope, 6 oz
$6.45: Priority (up to 16 oz)

Disclaimer: The rates and services provided above serve as a general guide. Please consult with your local Post Office™ for the exact rates needed for your mail.
4 Year Olds Rock ! Postage
4 YEAR OLDS ROCK ! These Fun designs are Great Birthday Party Ideas for Babies, Toddlers & Kids, even for Grandma & Grandpa ! We have every Age from 1-115, so you're covered for any Milestone with designs your Birthday Guests will Love ! Make Your Party Original & Unique with Shirts, Buttons & Hats that Everyone will be Talking about long after the Party is over ! ANY design from TShirtDotCom is available on 75+ different kinds of apparel for Women, Men, Kids & Babies ! Plus, there are Buttons in 6 sizes, 12 styles of Bags, Hats in 11 colors & Mugs in 30 different styles/colors ! There are Magnets, Stickers, Aprons, Greeting Cards, Mouse Pads, Posters/Prints, Key Chains, Custom Postage, Ties and More ! If you don't see the product you want, let us know by using the "Send Message" link on our home page, and we'll create it for you right away !
There are no reviews for this product yet.
Product ID: 172463049711242112
Created on: