August Macke - Rocky Landscape 1914 Watercolor Beer Stein
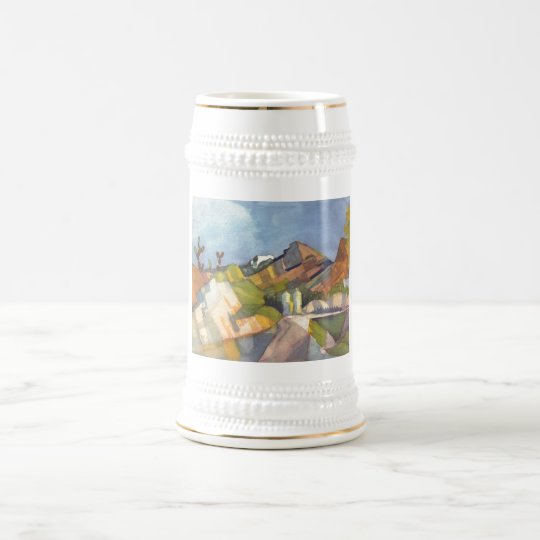 Style: Stein
Don't just drink beer, celebrate it with a made-to-order Zazzle beer stein. Our traditional German beer mug features ornate borders at the rim and base and a detailed handle. Honor your beer with the right vessel for the job, or give a stein to the beer lover in your life.
Available in 2 colors – white with metallic gold and gray with blue color
Dimensions: 3" diameter x 6.6" h; 22-ounce capacity
Dishwasher and microwave safe (though we recommend keeping your beer icy cold!)
Meets or exceeds FDA requirements for food and beverage safety
Printed on demand in San Jose, California
August Macke - Rocky Landscape 1914 Watercolor Beer Stein
Felsige Landschaft 1914 Watercolor. Water Color. 24 × 20 cm. He lived during a particularly innovative time for German art which saw the development of the main German Expressionist movements as well as the arrival of the successive avant-garde movements which were forming in the rest of Europe. Like a true artist of his time, Macke knew how to integrate into his painting the elements of the avant-garde which most interested him. August Macke was born in Meschede, Germany. His father, August Friedrich Hermann Macke (1845-1904), was a building contractor and his mother, Maria Florentine, née Adolph, (1848-1922), came from a farming family in Germany's Sauerland region. The family lived at Brüsseler Straße until August was 13. He then lived most of his creative life in Bonn, with the exception of a few periods spent at Lake Thun in Switzerland and various trips to Paris, Italy, Holland and Tunisia. In Paris, where he traveled for the first time in 1907, Macke saw the work of the Impressionists, and shortly after he went to Berlin and spent a few months in Lovis Corinth's studio. His style was formed within the mode of French Impressionism and Post-impressionism and later went through a Fauve period. In 1909 he married Elisabeth Gerhardt. In 1910, through his friendship with Franz Marc, Macke met Kandinsky and for a while shared the non-objective aesthetic and the mystical and symbolic interests of Der Blaue Reiter. Macke's meeting with Robert Delaunay in Paris in 1912 was to be a sort of revelation for him. Delaunay's chromatic Cubism, which Apollinaire had called Orphism, influenced Macke's art from that point onwards. His Shops Windows can be considered a personal interpretation of Delaunay's Windows, combined with the simultaneity of images found in Italian Futurism. The exotic atmosphere of Tunisia, where Macke traveled in 1914 with Paul Klee and Louis Moilliet was fundamental for the creation of the luminist approach of his final period, during which he produced a series of works now considered masterpieces. August Macke's oeuvre can be considered as Expressionism (the movement that flourished in Germany between 1905 and 1925), and also as part of Fauvism. The paintings concentrate primarily on expressing feelings and moods rather than reproducing objective reality, usually distorting colour and form. Macke's career was cut short by his early death at the front in Champagne in September 1914, the second month of World War I. His final painting, Farewell, depicts the mood of gloom that settled after the outbreak of war. Expressionism was a cultural movement, initially in poetry and painting, originating in Germany at the start of the 20th-century. Its typical trait is to present the world under an utterly subjective perspective, violently distorting it to obtain an emotional effect and vividly transmit personal moods and ideas. Expressionist artists sought to express the meaning of "being alive" and emotional experience rather than physical reality. Expressionism emerged as an 'avant-garde movement' in poetry and painting before the first World War; in the Weimar years was being appreciated by a mass audience, having its popularity peak in Berlin, during the 1920s. Expressionism is exhibited in many art forms, including: painting, literature, theatre, film, architecture and music. The term often implies emotional angst. In a general sense, painters such as Matthias Grünewald and El Greco can be called expressionist, though in practice, the term is applied mainly to 20th century works. The Expressionist stress on the individual perspective was also a reaction to positivism and other artistic movements such as naturalism and impressionism. Der Blaue Reiter (The Blue Rider) was a group of artists from the Neue Künstlervereinigung München in Munich, Germany. Der Blaue Reiter was a German movement lasting from 1911 to 1914, fundamental to Expressionism, along with Die Brücke which was founded the previous decade in 1905. Les Fauves (French for The Wild Beasts) were a short-lived and loose grouping of early 20th century Modern artists whose works emphasized painterly qualities and strong colour over the representational or realistic values retained by Impressionism. While Fauvism as a style began around 1900 and continued beyond 1910, the movement as such lasted only three years, 1905–1907, and had three exhibitions. The leaders of the movement were Henri Matisse and André Derain. Painting is a mode of expression and the forms are numerous. Drawing, composition or abstraction and other aesthetics may serve to manifest the expressive and conceptual intention of the practitioner. Paintings can be naturalistic and representational (as in a still life or landscape painting), photographic, abstract, be loaded with narrative content, symbolism, emotion or be political in nature. Painting is the practice of applying paint, pigment, color or other medium to a surface (support base). In art, the term describes both the act and the result, which is called a painting. Paintings may have for their support such surfaces as walls, paper, canvas, wood, glass, lacquer, clay or concrete. Paintings may be decorated with gold leaf, and some modern paintings incorporate other materials including sand, clay, and scraps of paper. A portion of the history of painting in both Eastern and Western art is dominated by spiritual motifs and ideas; examples of this kind of painting range from artwork depicting mythological figures on pottery to Biblical scenes rendered on the interior walls and ceiling of The Sistine Chapel, to scenes from the life of Buddha or other scenes of eastern religious origin. Among the continuing and current directions in painting at the beginning of the 21st century are Monochrome painting, Hard-edge painting, Geometric abstraction, Appropriation, Hyperrealism, Photorealism, Expressionism, Minimalism, Lyrical Abstraction, Pop Art, Op Art, Abstract Expressionism, Color Field painting, Neo-expressionism, Collage, Intermedia painting, Assemblage painting, Computer art painting, Postmodern painting, Neo-Dada painting, Shaped canvas painting, environmental mural painting, traditional figure painting, Landscape painting, Portrait painting, and paint-on-glass animation. Developments in Eastern painting historically parallel those in Western painting, in general, a few centuries earlier. African art, Islamic art, Indian art, Chinese art, and Japanese art each had significant influence on Western art, and, eventually, vice-versa. The oldest known paintings are at the Grotte Chauvet in France, claimed by some historians to be about 32,000 years old. They are engraved and painted using red ochre and black pigment and show horses, rhinoceros, lions, buffalo, mammoth or humans often hunting. However the earliest evidence of painting has been discovered in two rock-shelters in Arnhem Land, in northern Australia. In the lowest layer of material at these sites there are used pieces of ochre estimated to be 60,000 years old. Archaeologists have also found a fragment of rock painting preserved in a limestone rock-shelter in the Kimberley region of North-Western Australia, that is dated 40 000 years old. There are examples of cave paintings all over the world—in France, Spain, Portugal, China, Australia, India etc. In Western cultures oil painting and watercolor painting are the best known media, with rich and complex traditions in style and subject matter. In the East, ink and color ink historically predominated the choice of media with equally rich and complex traditions. Different types of paint are usually identified by the medium that the pigment is suspended or embedded in, which determines the general working characteristics of the paint, such as viscosity, miscibility, solubility, drying time, etc.
Artwork designed by
.

Chalon-sur-Saône, Saône-et-Loire, Saône-et-Loire
There are no reviews for this product yet.
Product ID: 168565063774154856
Created on: