Austria Official Coat Of Arms Heraldry Symbol Beer Stein
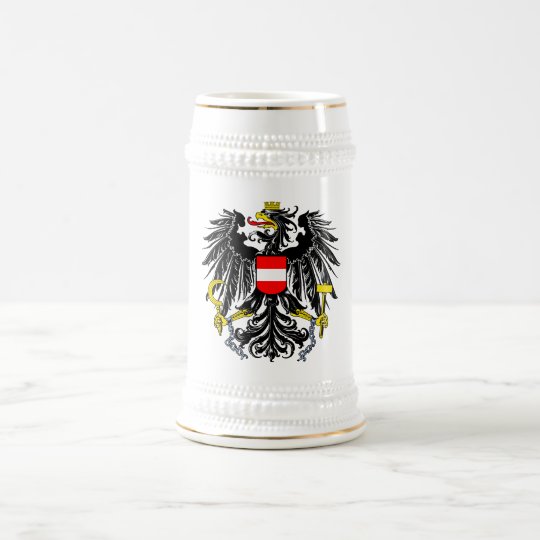 Style: Stein
Don't just drink beer, celebrate it with a made-to-order Zazzle beer stein. Our traditional German beer mug features ornate borders at the rim and base and a detailed handle. Honor your beer with the right vessel for the job, or give a stein to the beer lover in your life.
Available in 2 colors – white with metallic gold and gray with blue color
Dimensions: 3" diameter x 6.6" h; 22-ounce capacity
Dishwasher and microwave safe (though we recommend keeping your beer icy cold!)
Meets or exceeds FDA requirements for food and beverage safety
Printed on demand in San Jose, California
Austria Official Coat Of Arms Heraldry Symbol Beer Stein
Historically, they were used by knights to identify them apart from enemy soldiers. In Continental Europe, commoners were able to adopt burgher arms. Unlike seals and emblems, coats of arms have a formal description that is expressed as a blazon. In the 21st century, coats of arms are still in use by a variety of institutions and individuals (for example several have guidelines on how their coats of arms may be used and protect their use). The art of designing, displaying, describing and recording arms is called heraldry. The use of coats of arms by countries, states, provinces, towns and villages is called civic heraldry. In the heraldic traditions of England and Scotland an individual, rather than a family, had a coat of arms. In those traditions coats of arms are legal property transmitted from father to son; wives and daughters could also bear arms modified to indicate their relation to the current holder of the arms. Undifferenced arms are used only by one person at any given time. Other descendants of the original bearer could bear the ancestral arms only with some difference: usually a color change or the addition of a distinguishing charge. One such charge is the label, which in British usage (outside the Royal Family) is now always the mark of an heir apparent. Because of their importance in identification, particularly in seals on legal documents, the use of arms was strictly regulated; few countries continue in this today. This has been carried out by heralds and the study of coats of arms is therefore called "heraldry". Some other traditions (e.g., Polish heraldry) are less restrictive — allowing, for example, all members of a dynastic house or family to use the same arms, although one or more elements may be reserved to the head of the house. In time, the use of coat of arms spread from military entities to educational institutes, and other establishments. According to a design institute article, "The modern logo and corporate livery have evolved from the battle standard and military uniform of medieval times". In his book, The Visual Culture of Violence in the Late Middle Ages, Valentin Groebner argues that the images composed on coats of arms are in many cases designed to convey a feeling of power and strength, often in military terms. The author Helen Stuart argues that some coat of arms were a form of corporate logo. Museums on medieval coat of arms also point out that as emblems they may be viewed as a pre-cursors to the corporate logos of modern society, used for group identity formation. The American Great Seal is often said to be the coat of arms of the United States. The blazon ("Paleways of 13 pieces, argent and gules; a chief, azure") is intentionally improper to preserve the symbolic number 13. Most American states generally have seals, which fill the role of a coat of arms. However, the state of Vermont (founded as the independent Vermont Republic) follows the American convention of assigning use of a seal for authenticating official state documents and also has its own separate coat of arms. Many American social and especially organizations, use coats of arms in their symbolism. These arms vary widely in their level of adherence to European heraldic tradition. Organizations formed outside the United States with U.S. membership also may have a coat of arms. Roman Catholic dioceses and cathedrals have a coat of arms. Note that not all personal or corporate insignia are heraldic, though they may share many features. For example, flags are used to identify ships (where they are called ensigns), embassies and such, and they use the same colors and designs found in heraldry, but they are not usually considered to be heraldic. A country may have both a national flag and a national coat of arms, and the two may not look alike at all. For example, the flag of Scotland (St Andrew's Cross) has a white saltire on a blue field, but the royal arms of Scotland has a red lion within a double tressure on a gold (or) field. The Vatican has its own coat of arms. As the Papacy is not hereditary, its occupants display their personal arms combined with those of their office. Some Popes came from armigerous (noble) families; others adopted coats of arms during their career in the church. The latter typically allude to their ideal of life, or to specific Pontifical programmes.[11] A well known and widely displayed example in recent times was Pope John Paul II's coat of arms. His selection of a large letter M (for Mary) on his coat of arms was intended to express the message of his strong Marian devotion. Roman Catholic Dioceses also are assigned a coat of arms. A Basilica, or papal church also gets a coat of arms, which is usually displayed on the building. These may be used in countries which otherwise do not use heraldic devices. In Scotland, the Lord Lyon King of Arms has criminal jurisdiction to enforce the laws of arms. In England, Northern Ireland and Wales the use of arms is a matter of civil law and regulated from the of Arms. In reference to a dispute over the exercise of authority over the Officers of Arms, Arthur Annesley, 1st Earl of Anglesey, Lord Privy Seal, declared on 16 June 1673 that the powers of the Earl Marshal were "to order, judge, and determine all matters touching arms, ensigns of nobility, honour, and chivalry; to make laws, ordinances, and statutes for the good government of the Officers of Arms; to nominate Officers to fill vacancies in the of Arms; to punish and correct Officers of Arms for misbehaviour in the execution of their places". It was further declared that no patents of arms or any ensigns of nobility should be granted and no augmentation, alteration, or addition should be made to arms without the consent of the Earl Marshal. Today, the term "coat of arms" is frequently applied in two different ways. In some uses, it may indicate a full achievement of arms or heraldic achievement, which includes a variety of elements — usually a crest sitting atop a helmet, itself sitting on a shield; other common elements include supporters holding up the shield and a motto (beneath in England, above in Scotland). Some people wrongly use "coat of arms" or "arms" to refer to the escutcheon (i.e., the shield itself), or to one of several designs that may be combined in one shield. (Note that the crest is one specific part of a heraldic achievement and that "crest of arms" is a misnomer.) The "coat of arms" frequently are adorned with a device - a motto, emblem, or other mark used to distinguish the bearer from others. If a motto is a part of the achievement, it sometimes has some punning allusion to the owner's name. A device differs from a badge or cognizance primarily because it is a personal distinction, and not a badge borne by members of the same house successively. Heraldry is the profession, study, or art of devising, granting, and blazoning arms and ruling on questions of rank or protocol, as exercised by an officer of arms. Heraldry comes from Anglo-Norman herald, from the Germanic compound *harja-waldaz, "army commander". The word, in its most general sense, encompasses all matters relating to the duties and responsibilities of officers of arms. To most, though, heraldry is the practice of designing, displaying, describing, and recording coats of arms and badges. Historically, it has been variously described as "the shorthand of history" and "the floral border in the garden of history."The origins of heraldry lie in the need to distinguish participants in combat when their faces were hidden by iron and steel helmets. Eventually a formal system of rules developed into ever more complex forms of heraldry. The system of blazoning arms that is used in English-speaking countries today was developed by the officers of arms in the Middle Ages. This includes a stylized description of the escutcheon (shield), the crest, and, if present, supporters, mottoes, and other insignia. Certain rules apply, such as the Rule of tincture, and a thorough understanding of these rules is a key to the art of heraldry. The rules and terminology do differ from country to country, indeed several national styles had developed by the end of the Middle Ages, but there are some aspects that carry over internationally. Though heraldry is nearly 900 years old, it is still very much in use. Many cities and towns in Europe and around the world still make use of arms. Personal heraldry, both legally protected and lawfully assumed, has continued to be used around the world. Heraldic societies exist to promote education and understanding about the subject. Austria en-us-Austria.ogg /ˈɔːstriə/ (help·info) (German: Österreich.ogg Österreich (help·info)), officially the Republic of Austria (German: Republik Österreich.ogg Republik Österreich), is a landlocked country of roughly 8.3 million people[2] in Central Europe. It borders both Germany and the Czech Republic to the north, Slovakia and Hungary to the east, Slovenia and Italy to the south, and Switzerland and Liechtenstein to the west. The territory of Austria covers 83,872 square kilometres (32,383 sq mi), and is influenced by a temperate and alpine climate. Austria's terrain is highly mountainous due to the presence of the Alps; only 32% of the country is below 500 metres (1,640 ft), and its highest point is 3,797 metres (12,460 ft).[5] The majority of the population speaks German,[6] which is also the country's official language.[1] Other local official languages are Croatian, Hungarian and Slovene.[5] The origins of Austria date back to the time of the Roman Empire when a Celtic kingdom was conquered by the Romans in approximately 15 BC, and later became Noricum, a Roman province, in the mid 1st century AD[7]—an area which mostly encloses today's Austria. In 788 AD, the Frankish king Charlemagne conquered the area, and introduced Christianity. More recently, the Austrian Empire formed a monarchic union with the Kingdom of Hungary in 1867—creating Austria–Hungary, also known as the Austro-Hungarian Empire—which ended in 1918 with the closure of World War I. After establishing the First Austrian Republic in 1919 Austria was de facto annexed into Greater Germany by the Nazi regime in the so-called Anschluss in 1938.[8] This lasted until the end of World War II in 1945, after which Austria was occupied by the Allies. In 1955, the Austrian State Treaty re-established Austria as a sovereign state, ending the occupation. In the same year, the Austrian Parliament created the Declaration of Neutrality which declared that the country would become permanently neutral. Today, Austria is a parliamentary representative democracy, composed of nine federal states.[5][9] The capital—and with a population exceeding 1.6 million, Austria's largest city—is Vienna.[5][10] Austria is one of the richest countries in the world, with a nominal per capita GDP of $43,570. The country has developed a high standard of living, and in 2008 was ranked 14th in the world for its Human Development Index. Austria has been a member of the United Nations since 1955,[11] joined the European Union in 1995,[5] and is a founder of the OECD.[12] Austria also signed the Schengen Agreement in 1995,[13] and adopted the European currency, the euro, in 1999. Austria was incorporated into the Third Reich and ceased to exist as an independent state. The Nazis called Austria "Ostmark"[40] until 1942 when it was again renamed and called "Alpen-Donau-Reichsgaue". Vienna fell on 13 April 1945 during the Soviet Vienna Offensive just before the total collapse of the Third Reich. Karl Renner astutely set up a Provisional Government in Vienna in April with the approval of the victorious Soviet forces,[41] and declared Austria's secession from the Third Reich by the Declaration of Independence on 27 April 1945. Total military deaths from 1939–1945 are estimated at 260,000.[42] Jewish Holocaust victims totaled 65,000.[43] Much like Germany, Austria, too, was divided into a British, a French, a Soviet and a U.S. Zone and governed by the Allied Commission for Austria.[44] As forecast in the Moscow Declaration in 1943, there was a subtle difference in the treatment of Austria by the Allies.[41] The Austrian Government, consisting of Social Democrats, Conservatives and Communists and residing in Vienna, which was surrounded by the Soviet zone, was recognised by the Western Allies in October 1945 after some doubts that Renner could be Stalin's puppet. Thereby the creation of a separate Western Austrian government and the division of the country could be avoided. Austria, in general, was treated as though it had been originally invaded by Germany and liberated by the Allies.[45] Innsbruck hosted the 1964 and 1976 Winter Olympics After talks which lasted for years and were influenced by the Cold War, on 15 May 1955 Austria regained full independence by concluding the Austrian State Treaty with the Four Occupying Powers. On 26 October 1955 Austria declared its "permanent neutrality" by an act of Parliament, which remains to this day but has been indirectly changed by constitutional amendments concerning Austria as member of the European Union.[46] The political system of the Second Republic is based on the constitution of 1920 and 1929, which was reintroduced in 1945. The system came to be characterised by Proporz, meaning that most posts of political importance were split evenly between members of the Social Democrats and the People's Party.[47] Interest group "chambers" with mandatory membership (e.g. for workers, business people, farmers) grew to considerable importance and were usually consulted in the legislative process, so that hardly any legislation was passed that did not reflect widespread consensus.[48] Since 1945, a single-party government took place only 1966−1970 (conservatives) and 1970−1983 (social democrats). During all other legislative periods, either a grand coalition of conservatives and social democrats or a "small coalition" (one of these two and a smaller party) ruled the country. The country became a member of the European Union in 1995.[49] The major parties SPÖ and ÖVP have contrary opinions about the future status of Austria's military non-alignment: While the SPÖ in public supports a neutral role, the ÖVP argues for stronger integration into the EU's security policy; even a future NATO membership is not ruled out by some ÖVP politicians. In reality, Austria is taking part in the EU's Common Foreign and Security Policy, participates in the so called Petersburg Agenda (including peace keeping and peace creating tasks) and has become member of NATO's "Partnership for Peace"; constitution has been amended accordingly. Since 2008, due to the Schengen Agreement, the only neighbouring country performing border controls towards Austria is Liechtenstein. Austria's past as a European power and its cultural environment have generated a broad contribution to various forms of art, most notably among them music. Austria has been the birthplace of many famous composers such as Wolfgang Amadeus Mozart, Joseph Haydn, Franz Schubert, Anton Bruckner, Johann Strauss, Sr., Johann Strauss, Jr. and Gustav Mahler as well as members of the Second Viennese School such as Arnold Schoenberg, Anton Webern and Alban Berg. Vienna has long been especially an important centre of musical innovation. Eighteenth and nineteenth century composers were drawn to the city due to the patronage of the Habsburgs, and made Vienna the European capital of classical music. During the Baroque period, Slavic and Hungarian folk forms influenced Austrian music. Vienna's status began its rise as a cultural center in the early 1500s, and was focused around instruments including the lute. Ludwig van Beethoven spent the better part of his life in Vienna. Austria's current national anthem, attributed to Mozart, was chosen after World War II to replace the traditional Austrian anthem by Joseph Haydn. Austria has also produced one notable jazz musician, keyboardist Josef Zawinul, who helped pioneer electronic influences in jazz as well as being a notable composer in his own right. The pop and rock musician, Falco, was internationally acclaimed during the 1980s, especially for his song "Rock Me Amadeus" dedicated to Mozart.[77] The drummer Thomas Lang was born in Vienna in 1967 and is now world renowned for his technical ability, having played with artists such as Geri Halliwell and Robbie Williams. Austria's cuisine is derived from that of the Austro-Hungarian Empire. Austrian cuisine is mainly the tradition of Royal-Cuisine ("Hofküche") delivered over centuries. It is famous for its well-balanced variations of beef and pork and countless variations of vegetables. There is also the "Mehlspeisen" Bakery, which created particular delicacies such as Sachertorte, "Krapfen" which are doughnuts usually filled with apricot marmalade or custard, and "Strudel" such as "Apfelstrudel" and "Topfenstrudel" filled with sweetened sour cream. In addition to native regional traditions, the cuisine has been influenced by Hungarian, Bohemia Czech, Jewish, Italian, Balkan and French cuisine, from which both dishes and methods of food preparation have often been borrowed. The Austrian cuisine is therefore one of the most multicultural and transcultural in Europe. Wiener Schnitzel Typical Austrian dishes include Wiener Schnitzel, Schweinsbraten, Kaiserschmarren, Knödel, Sachertorte and Tafelspitz. There are also Kärntner Kasnudeln, a cooked filled dough-bag with a type of cottage cheese and spearmint, and Eierschwammerl dishes. The "Eierschwammerl", also known as "Pfifferling", are native yellow, tan mushrooms. The candy Pez was invented in Austria, as well as Mannerschnitten. Austria is also famous for its Mozartkugeln, and its coffee tradition.
Artwork designed by
.

Chalon-sur-Saône, Saône-et-Loire, Saône-et-Loire
There are no reviews for this product yet.
Product ID: 168012082585462940
Created on: