Carnegie Steel for Wheels Rails and Rail Joints Postage

Qty:
20% Off with code SUMMERTIME60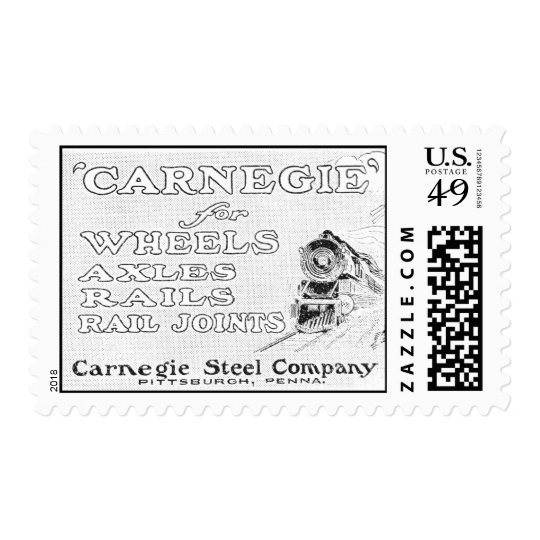 Size: Medium, 2.1" x 1.3"
Make each letter a special delivery with a sheet of Zazzle Custom Postage! Put a personal touch on your mail, or share this useful gift with friends and family. Zazzle's medium custom postage fit especially well on greeting card or RSVP envelopes.
Dimensions:

Landscape - Postage: 2.1"l x 1.3"w; Image: 1.4"l x 1.1"w
Portrait - Postage: 1.3"l x 2.1"w; Image: 1.1"l x 1.4"w

Image aspect ratio: 3 x 4
20 Custom Zazzle Stamps per sheet
Choose from twelve postage denominations:

$0.34: Post Card
$0.49: 1st Class Letter, 1 oz
$0.70: 1st Class Letter, 2 oz or 1 oz odd
$0.91: 1st Class Letter, 3 oz or 2 oz odd
$0.98: 1st Class Large Envelope, 1 oz
$1.12: 1st Class Letter, 3 oz odd
$1.19: 1st Class Large Envelope, 2 oz
$1.40: 1st Class Large Envelope, 3 oz
$1.61: 1st Class Large Envelope, 4 oz
$1.82: 1st Class Large Envelope, 5 oz
$2.03: 1st Class Large Envelope, 6 oz
$6.45: Priority (up to 16 oz)

Disclaimer: The rates and services provided above serve as a general guide. Please consult with your local Post Office™ for the exact rates needed for your mail.

Carnegie Steel for Wheels Rails and Rail Joints Postage
From www.railphotoexpress.biz Carnegie Steel for Railroad Locomotive Wheels, Railroad Train Axles, and Railroad Joints Andrew Carnegie was a 19th century steel tycoon who became one of the 20th century's most famous philanthropists. Hislife story is one of the most famous rags-to-riches accounts in United States history. Born in Scotland, Carnegie moved to Pennsylvania with his family in 1848 and began working in factories as a teenager. Hard work and a wise investment in a sleeping car company during the 1850s led to Carnegie's early success in the railroad business as well as the financial world. During the Civil War he invested in oil, worked in transportation for the U.S. War Department and became interested in the iron and steel business. After the war he concentrated on steel, and by 1888 he owned control of the Homestead Steel Works and other manufacturing plants, which he eventually consolidated as the Carnegie Steel Company. With his longtime partner,Henry Clay Frick, Carnegie competed fiercely in business and tried to quash organized labor, in spite of his belief that it was the duty of the wealthy to help society (a belief he outlined in an influential 1889 essay, "The Gospel of Wealth"). In 1901 Carnegie Steel merged with the U.S. Steel Corporation and Carnegie sold out to J.P. Morgan for $480 million, making Carnegie the richest man in the world. After his retirement he became a philanthropist and donated more than $350 million to further public education, build libraries and lobby for international peace. He also created the Carnegie Corporation of New York, endowing it with $125 million to support benefactions after his death. Although he spent much of his later life on his estate in Scotland, during World War I he returned to the U.S., where he died in 1919 at Shadowbrook, his estate in the Berkshire Hills of Massachusetts.


Artwork designed by
There are no reviews for this product yet.
Product ID: 172704333972610859
Created on: