Cartoon Pig 5 Custom Postage Stamps
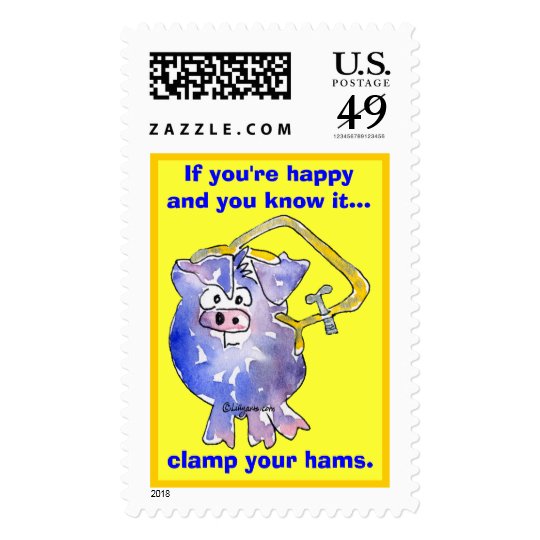 Size: Large, 2.5" x 1.5"
Make each letter a special delivery with a sheet of Zazzle Custom Stamps! Put a personal touch on your mail, or share this useful gift with friends and family. Zazzle's large custom postage are especially perfect for standard letters and larger envelopes.
Dimensions:

Landscape - Postage: 2.5"l x 1.5"w; Image: 1.7"l x 1.2"w
Portrait - Postage: 1.5"l x 2.5"w; Image: 1.2"l x 1.7"w

Image aspect ratio: 5 x 7
20 Zazzle Custom Stamps per sheet
Choose from twelve postage denominations:

$0.34: Post Card
$0.49: 1st Class Letter, 1 oz
$0.70: 1st Class Letter, 2 oz or 1 oz odd
$0.91: 1st Class Letter, 3 oz or 2 oz odd
$0.98: 1st Class Large Envelope, 1 oz
$1.12: 1st Class Letter, 3 oz odd
$1.19: 1st Class Large Envelope, 2 oz
$1.40: 1st Class Large Envelope, 3 oz
$1.61: 1st Class Large Envelope, 4 oz
$1.82: 1st Class Large Envelope, 5 oz
$2.03: 1st Class Large Envelope, 6 oz
$6.45: Priority (up to 16 oz)

Disclaimer: The rates and services provided above serve as a general guide. Please consult with your local Post Office™ for the exact rates needed for your mail.
Cartoon Pig 5 Custom Postage Stamps
Go whole hog and add some light-hearted humor to your invitations, cards and letters with pig postage! You can personalize the text with your own message. Change the font, size, background and border to have it porky perfect exactly your way. These happy pigs have been out flying (you know.... when pigs fly)... therefore everything is extremely happy. So of course, it's good to clamp them down once in a while so they can stop flying long enough to eat some dinner. Based upon a childrens song and part of a set of designs with other things to do "when you are happy and you know it": clip your hounds, clam your ants, and clasp your hans.
There are no reviews for this product yet.
Product ID: 172339328929251919
Created on: