Cool Deep Blue Green Watercolor Pattern Adult Cloth Face Mask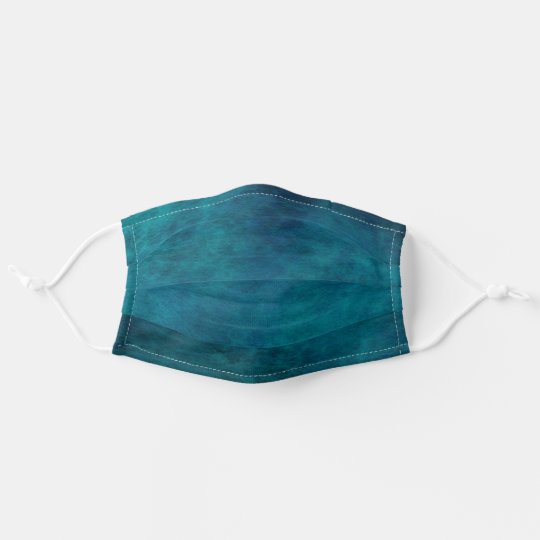 Design is previewed with RealView™ technology.
About This Product
Sold by
Style: Adult Face Mask
New and improved face masks for adults and kids are here! Help slow the spread of the virus with a beautifully-decorated face covering that features upgraded, adjustable ear loops and nose wire to ensure a great fit, as well as an insert slot so you can insert a disposable mask inside (sold separately) to provide extra layers of filter protection. The adjustable nose bridge wire lets you conform the top of the mask perfectly around the shape of your nose, and with the adjustable ear loops, you can set the tension on the face mask straps to fit your face and ears just right. Browse thousands of designs or create your own custom masks by uploading photos or logos.
Zazzle's customizable cloth face masks are NOT surgical masks, personal protective equipment, or N-95 respirators – these critical resources are reserved for the brave healthcare workers who are on the front lines, taking care of our loved ones – but rather are intended for general, everyday use while out in public when social distancing measures are difficult to maintain. We made sure that our face masks have all the most important features to keep you safe and comfortable:
Easy to use (CDC guidance on how to wear and remove a mask )
Reusable (Wash with proper sanitization after each use)
Machine washable on delicate or gentle cycle
Comfortable 100% polyester fabric (decorated front material is a poly sheeting, and the back is made from poly microfiber)
Sturdy over-the-ear elastic straps with adjustable tensioners for a snug fit
Nose wire adjusts to fit the shape of your nose and face
Face masks should not be placed on children under age 2
Available in both adult (7" x 3.5") and kids (6" x 3") sizes
May be worn alone, but designed with an insert slot for an optional surgical mask or a disposable mask (sold separately), which acts as an additional barrier to fluids and particulate materials
Please note that our face masks have not been tested for flame resistance or skin sensitivity
While guidance is continually evolving, Zazzle has compiled information it hopes you will find helpful on how to stay safe and protect the ones you love:
Wash before first use (please use delicate or gentle cycle)
The Centers for Disease Control and Prevention recommends the use of cloth face coverings1 as face masks to supplement social distancing in the fight against the spread of COVID-19. While the CDC's guidance recommends even homemade cloth face coverings to help slow the spread of the virus.
1 Source: CDC.GOV
These masks are custom and made-to-order. The Zazzle Marketplace is a platform powered by hundreds of manufacturers, most of which are domestic here in the USA. To facilitate the enormous custom face mask demand, we're also working with variety of manufacturers globally, including from China. We route your order to the best manufacturer given your specific order requirements and your shipping destination to ensure top quality and fastest turnaround.
Disclaimer: The mask should not be used (1) in any surgical setting or where significant exposure to liquid, bodily or other hazardous fluids, may be expected; (2) in a clinical setting where the infection risk level through inhalation exposure is high; or (3) in the presence of a high intensity heat source or flammable gas. We make no warranties, either express or implied, that the mask prevents infection or the transmission of viruses or diseases.
Returns: For health and safety reasons, all face mask sales are final and are not returnable or exchangeable.
About This Design
Cool Deep Blue Green Watercolor Pattern Adult Cloth Face Mask
An simple watercolor pattern in deep blues and turquoise. © Molly Harrison
| | Face Shield | Disposable 3 Ply | Mask with Insert Slot | Premium | Cotton & Poly Blend |
| --- | --- | --- | --- | --- | --- |
| Material | PET Plastic | Non-Woven | 100% Polyester | 100% Premium Polyester | Inside: 96% Cotton, Outside: 100% Polyester |
| Layers | One Layer | One 3-Ply Layer | Two Layers + Optional 3 Ply Insert | Two Layers + Optional 3 Ply Insert | Two Layers |
| Minimum Order Quantity | 1 | 10 pack | 1 | 1 | 1 |
| Price as low as | $9.50/ $8.50 (youth size) | $5.90 | $12.95 / $11.95 (kids size) | $17.95/ $12.95 (kids size) | $18.95 |
| Disposable | | | | | |
| Washable/Reusable | | | | | |
| Customizable | | | | | |
| Edge-to-Edge Decoration | | | | | |
| Sizes | Adult and Kids Sizes | One Size Fits All | Adult and Kids sizes | Adult and Kids Sizes | Two Sizes |
| Strap Style | Glasses Frame (No Strap) | Over-Ear Elastic | Adjustable Ear Loops | Adjustable Ear Loops | Over-Ear Fabric Strap |
| Features | Comfortably fits over eyewear and face masks | Lightweight, Odorless and Breathable | With Insert Slot and Nose Wire | With Insert Slot and Nose Wire | 10 Different Strap Colors |
| Shop | SHOP NOW > | SHOP NOW > | SHOP NOW > | SHOP NOW > | SHOP NOW > |
| Create | CREATE NOW > | | CREATE NOW > | CREATE NOW > | CREATE NOW > |
Reviews
There are no reviews for this design yet.
Have you purchased this product?
Other Info
Product ID: 256175626824899422
Created on:
4/11/2020, 2:12 PM