Dolphin and diving birds bicycle playing cards
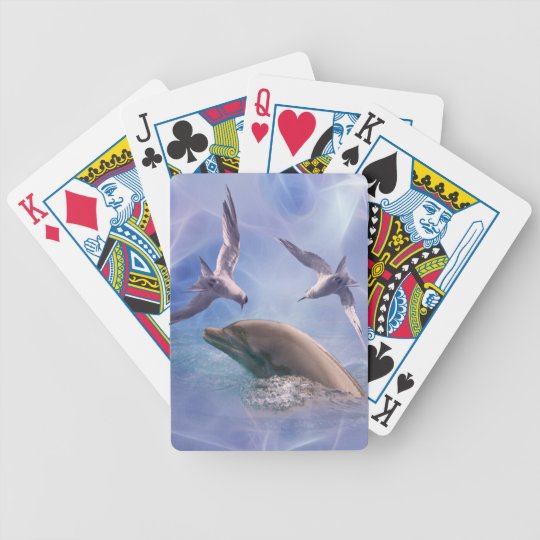 Style: Bicycle Playing Cards
Personalize a set of the world's most well-known and respected playing cards. Made with patented casino quality paper and a color printing process that is second to none, these cards are the mark of premium quality Bicycle has represented since 1885.
Dimensions: 2.5" x 3.5"; poker size playing cards
Easy to shuffle, durable semi-gloss cards
52 playing cards, 2 Jokers per deck
Comes with standard Bicycle cardboard case
Made in Kansas City, Kansas
Please Note: In the Green Style Deck, the King of Hearts has one Red Heart and one Black Heart in the design.
Dolphin and diving birds bicycle playing cards
Greek people believed Dolphins were friends of humans and to kill one was immoral. River Dolphins in the Amazon are also considered sacred Many cultures around the world have a story of creation that involves Dolphin like creatures. No one is certain if they were Dolphins or not. Generally these cultures including the Dogon tribe of Africa tells of flying saucers coming from the sky and landing in water. Dolphin like creatures jumped from the ship into the water. The Dogans say that Dolphin like creatures came from the water and told them about Sirus. They have diagrams of Sirus in their caves dating back 700 years ago. Dolphins are obviously related to our developing consciousness.
There are no reviews for this product yet.
Product ID: 256211546961945955
Created on: