Gemini Commemorative Logo iPhone 4 Skins
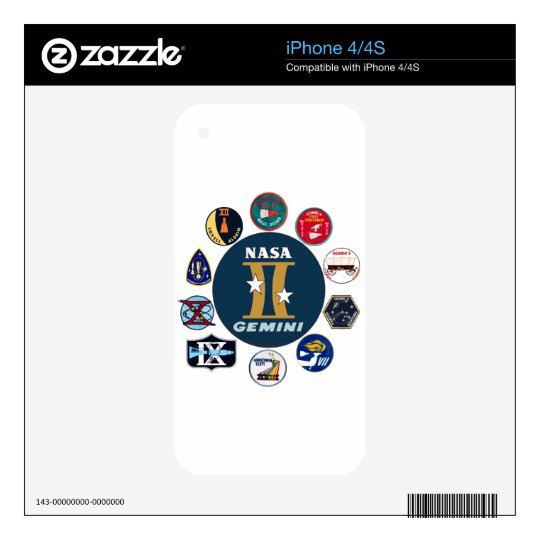 Model: iPhone 4/4S
Express your personal style and defend your device with a custom iPhone 4/4S skin! Made of ultrathin and super-durable 3M vinyl, Zazzle iPhone 4/4S skins feature patented air release technology for a smooth, zero-bubble surface that protects your device from everyday scratches and scuffs without adding bulk. Printed and laminated with the highest quality standards and precision fitted for your iPhone 4/4S, this custom skin will look sharp and brilliant with your designs, photos, and text.
Made in the USA - 3M vinyl featuring patented air release technology.
No bulk – Seamlessly integrates with all cases, docks, arm bands, and bags.
Super tough, laminated skins protects device from scratches.
Easy peel on and off. No sticky residue.
100% satisfaction guaranteed.
Gemini Commemorative Logo iPhone 4 Skins
Project Gemini was the second human spaceflight program of NASA, the civilian space agency of the United States government. Project Gemini was conducted between projects Mercury and Apollo, with ten manned flights occurring in 1965 and 1966. Its objective was to develop space travel techniques in support of Apollo, which had the goal of landing men on the Moon. Gemini achieved missions long enough for a trip to the Moon and back, perfected extra-vehicular activity (working outside a spacecraft), and orbital maneuvers necessary to achieve rendezvous and docking. here were 2 unmanned Gemini flights in 1964 and 1965, followed by 10 manned flights in 1965 and 1966. All were launched by Titan II launch vehicles. We have products featuring the OFFICIAL NASA mission patches, as well as our own Gemini Commemorative logo. Additionally we have our version of the Gemini Program 50th Anniversary Logo, in honor of the 50th Anniversary of the 1st flight (2014) and the Manned Flights (2015-2016). As always, we do special orders and customization and its always free. Want a NASA logo on the back or inside of a a product?? Write us at: SALES
There are no reviews for this product yet.
Product ID: 134013204611953566
Created on: