Henri de Toulouse-Lautrec Reine de Joie Classic Round Sticker
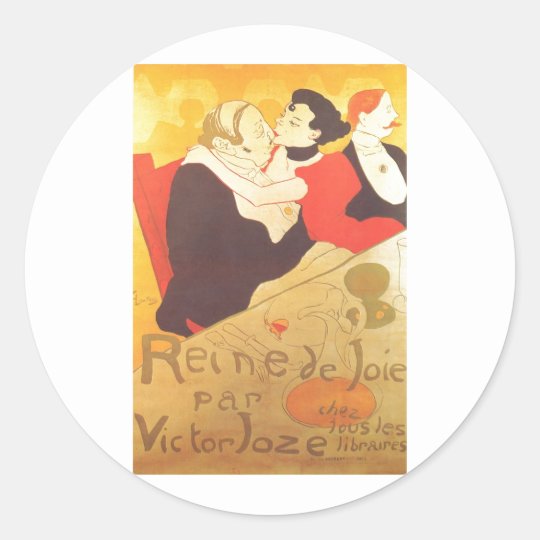 Shape: Classic Round Sticker
Make your unique style stick by creating custom stickers for every occasion! From special mailings and scrapbooking to kids' activities and DIY projects, you'll find these stickers are great for so many uses. Add your own designs, patterns, text, and pictures!
Dimensions: Available in 2 sizes:

Large: 3" diameter, 6 stickers per sheet
Small: 1.5" diameter, 20 stickers per sheet

Printed on white acid-free paper
Vibrant full-color, full-bleed printing
Scratch-resistant front, easy peel-and-stick back
Available in a matte or glossy finish
Use the "Customize it!" button to choose between 7 different shapes
Henri de Toulouse-Lautrec Reine de Joie Classic Round Sticker
Toulouse-Lautrec is known along with Cézanne, Van Gogh, and Gauguin as one of the greatest painters of the Post-Impressionist period. In a 2005 auction at Christie's auction house a new record was set when "La blanchisseuse", an early painting of a young laundress, sold for $22.4 million U.S. Toulouse-Lautrec was drawn to Montmartre, an area of Paris famous for its bohemian lifestyle and for being the haunt of artists, writers, and philosophers. Studying with Bonnat placed Henri in the heart of Montmartre, an area that he would rarely leave over the next 20 years. After Bonnat took a new job Henri moved to the studio of Fernand Cormon in 1882 and studied for a further 5 years, here making the group of friends he would keep for the rest of his life. It was at this period in his life he first met Emile Bernard and van Gogh. Cormon, whose instruction was more relaxed than Bonnat's, allowed his pupils to roam Paris, looking for subjects to paint. In this period Toulouse-Lautrec had his first encounter with a prostitute, reputedly sponsored by his friends, and this led him to paint his first painting of the prostitutes of Montmarte, a woman rumoured to be called Marie-Charlotte. With his studies finished in 1887 he participated in an exposition in Toulouse under the pseudonym "Tréclau", an anagram of the family name 'Lautrec'. He later exhibited in Paris with van Gogh and Louis Anquetin. From 1889 until 1894, Henri took part in the "Independant Artists' Salon" on a regular basis. He made several landscapes of Montmarte. It was in this era that the '' opened. Tucked deep into Montmartre was the garden of Monsieur Pere Foret where Toulouse-Lautrec executed a series of pleasant plein-air paintings of Carmen Gaudin, the same red-head model who appears in The Laundress (1888). When the nearby cabaret opened its doors, Toulouse-Lautrec was commissioned to produce a series of posters. His mother had left Paris and while Henri still had a regular income from his family, making posters offered him a living of his own. Other artists looked down on the work, but Henri was so aristocratic he didn't care. Thereafter, the cabaret reserved a seat for him, and displayed his paintings. Among the well-known works that he painted for the and other Parisian nightclubs are depictions of the singer Yvette Guilbert; the dancer Louise Weber, known as the outrageous La Goulue ("The Glutton"), who created the "French Can-Can"; and the much more subtle dancer Jane Avril. Lautrec was often mocked for his short stature and physical appearance, and this lead him to drown his sorrows in alcohol. At first this was just beer and wine, but his tastes quickly expanded. He was one of the notable Parisians who enjoyed American style cocktails, France being a nation of wine purists. He would have parties at his house on a Friday night and force his guests to try them. The invention of the cocktail "Earthquake" or Tremblement de Terre, is attributed to Toulouse-Lautrec; a potent mixture containing half absinthe and half cognac, (in a wine goblet, 3 parts Absinthe and 3 parts Cognac sometimes served with ice cubes or shaken in a cocktail shaker filled with ice). 1893 saw Lautrec's alcoholism begin to take its toll, and as those around him began to realize the seriousness of his condition there were rumors of a syphilis infection. Finally, in 1899, his mother and a group of concerned friends had him briefly institutionalized. He had even gone to the length of having a cane that he could hide alcohol in so he could have a drink on him at all times. Throughout his career, which spanned less than 20 years, Toulouse-Lautrec created 737 canvases, 275 watercolours, 363 prints and posters, 5,084 drawings, some ceramic and stained glass work, and an unknown number of lost works. His debt to the Impressionists, in particular the more figurative painters Manet and Degas, is apparent. His style was also influenced by the classical Japanese woodprints which became popular in art circles in Paris. In the works of Toulouse-Lautrec can be seen many parallels to Manet's detached barmaid at A Bar at the Folies-Bergère and the behind-the-scenes ballet dancers of Degas. He excelled at capturing people in their working environment, with the colour and the movement of the gaudy night-life present, but the glamour stripped away. He was masterly at capturing crowd scenes in which the figures are highly individualised. At the time that they were painted, the individual figures in his larger paintings could be identified by silhouette alone, and the names of many of these characters have been recorded. His treatment of his subject matter, whether as portraits, scenes of Parisian night-life, or intimate studies, has been described as both sympathetic and dispassionate. Toulouse-Lautrec's skilled depiction of people relied on his painterly style which is highly linear and gives great emphasis to contour. He often applied the paint in long, thin brushstrokes which would often leave much of the board on which they are painted showing through. Many of his works may best be described as drawings in coloured paint. The (French for Red Mill) is a cabaret built in 1889 by Joseph Oller, who also owned the Paris Olympia. Close to Montmartre in the Paris red-light district of Pigalle on Boulevard de Clichy in the 18th arrondissement, it is marked by the red windmill on its roof. The is best known as the spiritual birthplace of the modern form of the can-can dance. The can-can (more correctly not hyphenated, as in the original French: cancan) is regarded today primarily as a physically demanding music hall dance, performed by a chorus line of female dancers who wear costumes with long skirts, petticoats, and black stockings, that hearkens back to the fashions of the 1890s. The main features of the dance are the lifting up and manipulation of the skirts, with high kicking and suggestive, provocative body movements.
Artwork designed by
.

Chalon-sur-Saône, Saône-et-Loire, Saône-et-Loire
There are no reviews for this product yet.
Product ID: 217487782372418432
Created on: