Mardi Gras Carnival Event Please View Notes Postage

Qty:
20% Off with code SUMMERTIME60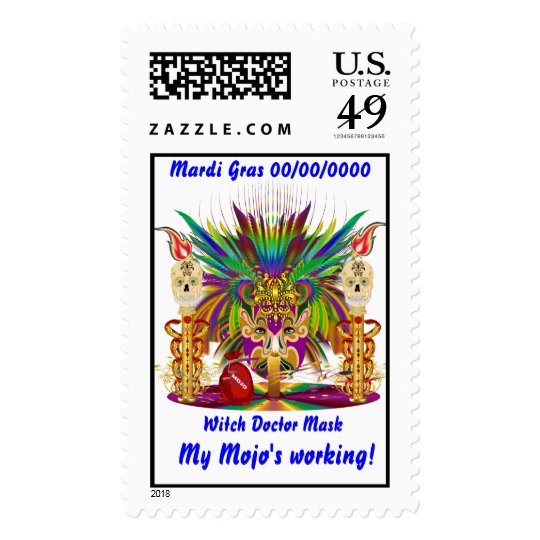 Size: Large, 2.5" x 1.5"
Make each letter a special delivery with a sheet of Zazzle Custom Stamps! Put a personal touch on your mail, or share this useful gift with friends and family. Zazzle's large custom postage are especially perfect for standard letters and larger envelopes.
Dimensions:

Landscape - Postage: 2.5"l x 1.5"w; Image: 1.7"l x 1.2"w
Portrait - Postage: 1.5"l x 2.5"w; Image: 1.2"l x 1.7"w

Image aspect ratio: 5 x 7
20 Zazzle Custom Stamps per sheet
Choose from twelve postage denominations:

$0.34: Post Card
$0.49: 1st Class Letter, 1 oz
$0.70: 1st Class Letter, 2 oz or 1 oz odd
$0.91: 1st Class Letter, 3 oz or 2 oz odd
$0.98: 1st Class Large Envelope, 1 oz
$1.12: 1st Class Letter, 3 oz odd
$1.19: 1st Class Large Envelope, 2 oz
$1.40: 1st Class Large Envelope, 3 oz
$1.61: 1st Class Large Envelope, 4 oz
$1.82: 1st Class Large Envelope, 5 oz
$2.03: 1st Class Large Envelope, 6 oz
$6.45: Priority (up to 16 oz)

Disclaimer: The rates and services provided above serve as a general guide. Please consult with your local Post Office™ for the exact rates needed for your mail.

Mardi Gras Carnival Event Please View Notes Postage
Notes: I got Gris-Gris for you! Gris-gris, also spelled grigri, pronounced, Gree-Gree, is a voodoo amulet originating in Africa which is believed to protect the wearer from evil or brings luck, and in some West African countries is used as a method of birth control. It consists of a small cloth bag, usually inscribed with verses and containing a ritual number of small objects, worn on the person. Mojo is a term commonly encountered in the African-American folk belief called hoodoo. A mojo is an amulet consisting of a flannel bag containing one or more magical items. It is related to the West African word "mojuba," meaning a prayer of praise and homage. It is a "prayer in a bag," or a spell that can be carried with or on the host's body. Alternative American names for the mojo bag include hand, mojo hand, conjure hand, lucky hand, conjure bag, trick bag, root bag, toby, jomo, and gris-gris bag. Although most Southern-style conjure bags are made of red flannel material, most seasoned conjurers use color-symbolism. This practice embodies itself in the practice of hoodoo, where green flannel is used for a money mojo, white flannel is used for a baby-blessing mojo, red flannel is used for love mojo, and so on. West Indians also use mojo bags, but often use leather instead of flannel. Fundraising? Need Ideas? One-of-a-kind designs. Thank you For Viewing.



Artwork designed by
There are no reviews for this product yet.
Product ID: 172036021103031668
Created on: