Mardi Gras Jester Joker view hints please Bicycle Playing Cards
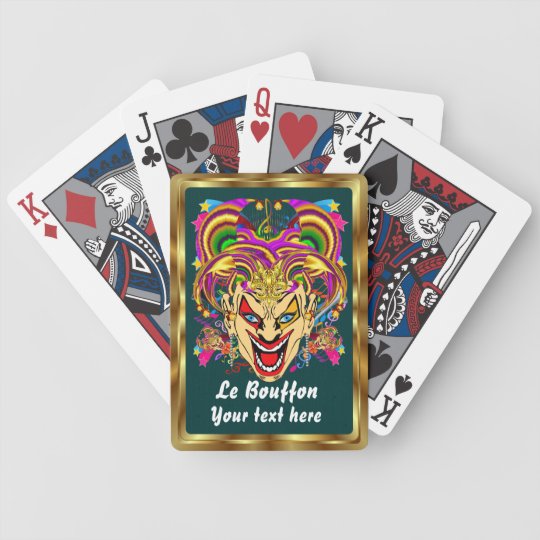 Details

Style: Bicycle Playing Cards
Personalize a set of the world's most well-known and respected playing cards. Made with patented casino quality paper and a color printing process that is second to none, these cards are the mark of premium quality Bicycle has represented since 1885.
Dimensions: 2.5" x 3.5"; poker size playing cards
Easy to shuffle, durable semi-gloss cards
52 playing cards, 2 Jokers per deck
Comes with standard Bicycle cardboard case
Made in Kansas City, Kansas
Please Note: In the Green Style Deck, the King of Hearts has one Red Heart and one Black Heart in the design.
Mardi Gras Jester Joker view hints please Bicycle Playing Cards
The Jester, French "Le Bouffon". A jester, joker, jokester, fool, wit-cracker, prankster, or buffoon was a person employed to tell jokes and provide general entertainment, typically for a European monarch. Jesters are stereotypically thought to have worn brightly colored clothes and eccentric hats in a motley pattern. Their hats were especially distinctive; typically made of cloth, they were floppy with three points, each of which had a jingle bell at the end. The three points of the hat represent donkey's ears and nose and tail worn by jesters in earlier times. Other things distinctive about the jester were his laughter and his mock sceptre, known as a "bauble" or marotte. Research resource http://en.wikipedia.org/wiki/Jester Cost to create this image $150.00, Your cost "FREE!" 30 background colors. Hi-Res image. Please note if you chance image or font view you product in the customize edit window (before) you purchase. Reason, your changes may cause the design or text to shift outside the safe area and be cut off. You can remove the borders. Borders will be trimmed. Thanks for viewing, Bill Please note: because New Orleans is hosting the 2013 Super Bowl XLVII, Mardi Gras festivities will pause for (AIEEE! We gon pass a good time here! , cher!) 9 days during the Carnival season, and then resume after the Super Bowl. Mardi Gras, or "Fat Tuesday", is the last day of the Carnival season as it always falls the day before Ash Wednesday, the first day of Lent. Most visitors will plan to arrive no later than Saturday, February 9, 2013 in order to enjoy an extended weekend of festivities. Please Note: This design created in Corel Draw X-5-6 is up loaded @ 300dpi, and then reduced to a smaller size this makes the image and color appear blurred, it will not print that way, thanks. Bill Mardi Gras colors. Rex selected the official Mardi Gras colors in 1872. The 1892 Rex Parade theme Symbolism of Colors gave meaning to the colors:purple represents justice; green, faith; and gold, power. Remember to wear the Mardi Gras colors of purple, green and gold during Mardi Gras whenever you're not in costume! January 6th is Twelfth Night, the day that begins the Carnival Season. Mardi Gras 2012 falls on Tuesday, February 21. Mardi Gras 2013, 12th of February, 2014 4th of March and 12th of February 2015. Mardi Gras, "Fat Tuesday", is the last day of the Carnival season as it always falls the day before Ash Wednesday, the first day of Lent. Most visitors will plan to arrive early so order now before the extended weekend of festivities. Theme party? Fundraising? Need Ideas? Bill
There are no reviews for this product yet.
Product ID: 256441701272276637
Created on: