Medical Cross Medical Life Saving Guard Symbol Baby T-Shirt

Qty:
20% Off with code ZFALLGIFTS50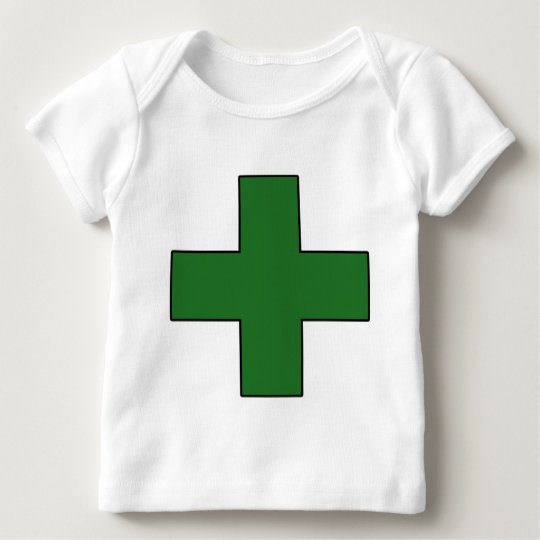 Independent artist's content may not match model depicted; RealView™ technology illustrates fit and usage only.
Style: Baby American Apparel Lap T-Shirt
Every new parent understands the importance of infant clothing that's a breeze to take on and off. With a neckband designed for easy on-and-off, this baby rib short-sleeve lap T-shirt is ready for whatever may come its way, from diaper mishaps to spit ups. This basic cotton T-shirt is perfect for tummy time, snuggle time and pretty much anytime.
Size & Fit
Standard fit, unisex sizing
Neckband designed for easy on-and-off
Fits true to size
Fabric & Care
5.8 oz., 100% baby rib cotton construction (heather grey contains 10% polyester)
Shrinkage: will shrink an average of one size when put in the dryer
Machine washable. Washing before first use is recommended
Not intended for sleepwear
Proudly made in the USA
Fully committed to providing high quality and safe products, all Zazzle baby products are Consumer Product Safety Improvement Act (CPSIA) compliant. Tracking label available in side seam.
Medical Cross Medical Life Saving Guard Symbol Baby T-Shirt
Today, hospitals are usually funded by the state, by health organizations, (for profit or non-profit), health insurances or charities, including by direct charitable donations. In history, however, hospitals were often founded and funded by religious orders or charitable individuals and leaders. Similarly, modern-day hospitals are largely staffed by professional physicians, surgeons, and nurses, whereas in history, this work was usually done by the founding religious orders or by volunteers. During the Middle Ages the hospital could serve other functions, such as almshouse for the poor, hostel for pilgrims, or hospital school. The name comes from Latin hospes (host), which is also the root for the English words hotel, hostel, and hospitality. The modern word hotel derives from the French word hostel, which featured a silent s, eventually removed from the word to leave a circumflex on modern French hôtel. The word is also related to the Sanskrit word 'Ispital' and the German 'Spital'. Grammar of the word differs slightly depending on the dialect. In the U.S., hospital usually requires an article; in Britain and elsewhere, the word is normally used without an article when it is the object of a preposition and when referring to a patient ("in/to the hospital" vs. "in/to hospital"); in Canada, both usages are found. The Romans created valetudinaria for the care of sick slaves, gladiators and soldiers around 100 BC, and many were identified by later archeology. While their existence is considered proven, there is some doubt as to whether they were as widespread as was once thought, as many were identified only according to the layout of building remains, and not by means of surviving records or finds of medical tools. The adoption of Christianity as the state religion of the empire drove an expansion of the provision of care. The First Council of Nicaea in 325 A.D. urged the Church to provide for the poor, sick, widows and strangers. It ordered the construction of a hospital in every cathedral town. Among the earliest were those built by the physician Saint Sampson in Constantinople and by Basil, bishop of Caesarea. The latter was attached to a monastery and provided lodgings for poor and travelers, as well as treating the sick and infirm. There was a separate section for lepers. While hospitals, by concentrating equipment, skilled staff and other resources in one place, clearly provide important help to patients with serious or rare health problems, hospitals are also criticised for a number of faults, some of which are endemic to the system, others which develop from what some consider wrong approaches to health care. One criticism often voiced is the 'industrialised' nature of care, with constantly shifting treatment staff, which dehumanises the patient and prevents more effective care as doctors and nurses are rarely intimately familiar with the patient. The high working pressures often put on the staff exacerbate such rushed and impersonal treatment. The architecture and setup of modern hospitals is often voiced as a contributing factor to the feelings of faceless treatment many people complain about. Another criticism is that hospitals are in themselves a dangerous place for patients, who are often suffering from weakened immune systems - either due to their body having to undergo substantial surgery or because of the illness which placed them in the hospital itself. Most of these criticisms stem from the pre-Listerian era. However, even in modern hospitals, hospital acquired infections can be an important cause of hospital related morbidity, and sometimes mortality. In the modern era, hospitals are, broadly, either funded by the government of the country in which they are situated, or survive financially by competing in the private sector (a number of hospitals are also still supported by the historical type of charitable or religious associations). In the United Kingdom for example, a relatively comprehensive, "free at the point of delivery" health care system exists, funded by the state. Hospital care is thus relatively easily available to all legal residents (although as hospitals prioritize their limited resources, there is a tendency for 'waiting lists' for non-emergency treatment in countries with such systems, and those who can afford it often take out private health care to get treatment faster). On the other hand, many countries, including for example the USA, have in the 20th Century followed a largely private-based, for-profit-approach to providing hospital care, with few state-money supported 'charity' hospitals remaining today. Where for-profit hospitals in such countries admit uninsured patients in emergency situations (such as during and after the Hurricane Katrina in the USA), they incur direct financial losses, ensuring that there is a clear disincentive to admit such patients. As quality of health care has increasingly become an issue around the world, hospitals have increasingly had to pay serious attention to this. Independent external assessment of quality is one of the most powerful ways of assessing the quality of health care, and hospital accreditation is one means by which this is achieved. In many parts of the world such accreditation is sourced from other countries, a phenomenon known as international health care accreditation, by groups such as Accreditation Canada from Canada, the Joint Commission from the USA, the Trent Accreditation Scheme from Great Britain, and Haute Authorité de santé (HAS) from France. The emblems of the International Red Cross and Red Crescent Movement, under the Geneva Conventions, are to be placed on humanitarian and medical vehicles and buildings to protect them from military attack on the battlefield. There are four such emblems, three of which are in use: the Red Cross, the Red Crescent, and the Red Crystal. The Red Lion and Sun is also a recognized emblem, but is no longer in use. There were also prior disputes concerning the use of a Red Star of David by Magen David Adom (MDA), the Israeli first-aid society; the Red Crystal was created in response to these disputes, thus enabling the admission of MDA to the movement. As specified by the Geneva Conventions, the four recognized emblems are to be used only to denote the following: * facilities for the care of injured and sick armed forces members; * armed forces medical personnel and equipment; * military chaplains; * International Red Cross and Red Crescent Movement organizations such as the International Committee of the Red Cross (ICRC), the International Federation of Red Cross and Red Crescent Societies (IFRC), and the 185 national Red Cross and Red Crescent societies. In order to ensure universal respect for the emblems, the Geneva Conventions obliged their signatories to forbid any other use of the names and emblems in wartime and peacetime. Nevertheless, the misuse of the emblem is widespread and it is often used as a general symbol to indicate first aid, medical supplies and civilian medical services especially walk-in clinics. Misuses appear in movies (A notable example is The Living Daylights [7][8], wherein narcotics were disguised as Red Cross care packages, as a plot device), on television, and in computer software and games. Service companies, such as those for car repair or lawn maintenance, tout themselves as service "doctors" and incorporate medical symbols to promote themselves. In 2006, the Canadian Red Cross issued a press release asking video game makers to stop using the red cross in their games.[9] In order to avoid this conflict, a green cross is often used as a generic alternative.

Artwork designed by
.

Chalon-sur-Saône, Saône-et-Loire, Saône-et-Loire
There are no reviews for this product yet.
Product ID: 235325443389382719
Created on: