Sandpiper at the Beach Postage
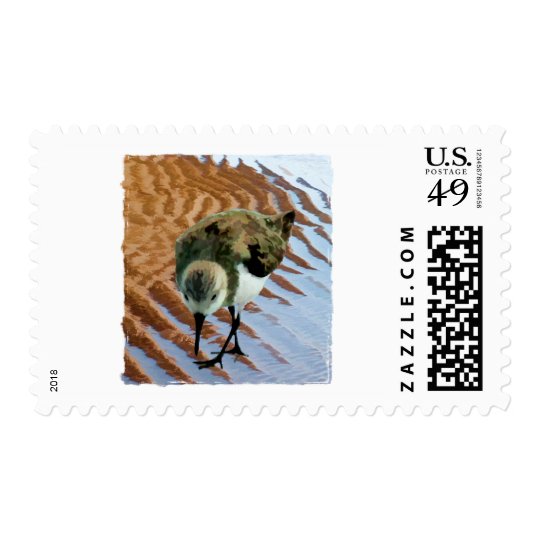 Size: Medium, 2.1" x 1.3"
Make each letter a special delivery with a sheet of Zazzle Custom Postage! Put a personal touch on your mail, or share this useful gift with friends and family. Zazzle's medium custom postage fit especially well on greeting card or RSVP envelopes.
Dimensions:

Landscape - Postage: 2.1"l x 1.3"w; Image: 1.4"l x 1.1"w
Portrait - Postage: 1.3"l x 2.1"w; Image: 1.1"l x 1.4"w

Image aspect ratio: 3 x 4
20 Custom Zazzle Stamps per sheet
Choose from twelve postage denominations:

$0.34: Post Card
$0.49: 1st Class Letter, 1 oz
$0.70: 1st Class Letter, 2 oz or 1 oz odd
$0.91: 1st Class Letter, 3 oz or 2 oz odd
$0.98: 1st Class Large Envelope, 1 oz
$1.12: 1st Class Letter, 3 oz odd
$1.19: 1st Class Large Envelope, 2 oz
$1.40: 1st Class Large Envelope, 3 oz
$1.61: 1st Class Large Envelope, 4 oz
$1.82: 1st Class Large Envelope, 5 oz
$2.03: 1st Class Large Envelope, 6 oz
$6.45: Priority (up to 16 oz)

Disclaimer: The rates and services provided above serve as a general guide. Please consult with your local Post Office™ for the exact rates needed for your mail.
Sandpiper at the Beach Postage
From the flock of bright, colorful tropical birds in the jungle to the solitary gull soaring above the ocean, to the pelicans diving for a meal off the dock, this collection will inspire a smile. The noisy screeching of a parrot, macaw, cockatoo or toucan in tree tops of jungles; a shore bird dancing at the edge of the ocean; flamingo, egret and heron wading in water; the brilliant metallic flash of a hummingbird … all of these images can help you recall an exotic vacation in the tropics, a day of recreation and relaxation at the beach, a morning in your garden, or an afternoon of observing the water fowl at a marsh or wetland area. Please Enjoy!
There are no reviews for this product yet.
Product ID: 172042782538805240
Created on: