The Little Screech Owl (Bubo asio) Postage

Qty:
20% Off with code ZAZZLESITE20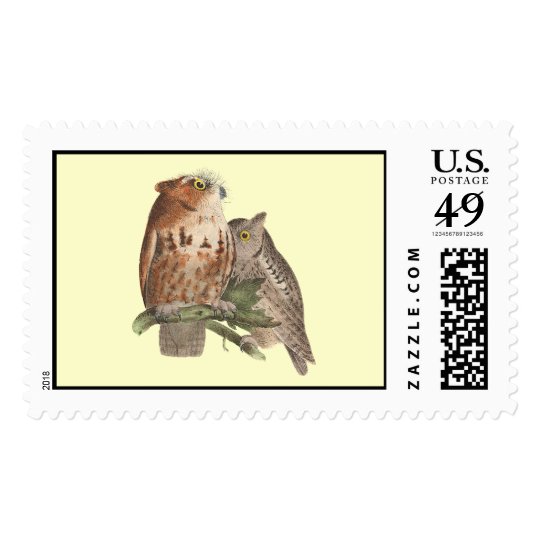 Size: Large, 2.5" x 1.5"
Make each letter a special delivery with a sheet of Zazzle Custom Stamps! Put a personal touch on your mail, or share this useful gift with friends and family. Zazzle's large custom postage are especially perfect for standard letters and larger envelopes.
Dimensions:

Landscape - Postage: 2.5"l x 1.5"w; Image: 1.7"l x 1.2"w
Portrait - Postage: 1.5"l x 2.5"w; Image: 1.2"l x 1.7"w

Image aspect ratio: 5 x 7
20 Zazzle Custom Stamps per sheet
Choose from twelve postage denominations:

$0.34: Post Card
$0.49: 1st Class Letter, 1 oz
$0.70: 1st Class Letter, 2 oz or 1 oz odd
$0.91: 1st Class Letter, 3 oz or 2 oz odd
$0.98: 1st Class Large Envelope, 1 oz
$1.12: 1st Class Letter, 3 oz odd
$1.19: 1st Class Large Envelope, 2 oz
$1.40: 1st Class Large Envelope, 3 oz
$1.61: 1st Class Large Envelope, 4 oz
$1.82: 1st Class Large Envelope, 5 oz
$2.03: 1st Class Large Envelope, 6 oz
$6.45: Priority (up to 16 oz)

Disclaimer: The rates and services provided above serve as a general guide. Please consult with your local Post Office™ for the exact rates needed for your mail.

The Little Screech Owl (Bubo asio) Postage
Plate XII Figures 25, 26 The Little Screech Owl (Bubo asio) (Eastern Screech Owl - Megascops asio) These bird images are scanned directly from lithographs in an 1844 book, "Zoology of New York, or the New-York Fauna, Part II, Birds." They are all very high resolution, providing intricate detail and wonderful resolution. The artwork is by J. W. Hill, and the author of the book is James De Kay. Often referred to as "De Kay's Birds," this book not only has beautiful illustrations, but is historically notable because it was the first time hand-colored lithographs were used to illustrate a state bird book. While not rare, the undamaged book is getting more and more scarce as people remove the plates for individual sale. There were very few published with the complete set of hand-colored plates. I am offering products with the entire plates (there are 141 plates in the book) as well as many of the individual figures. I have edited the figures to display them on their own, manipulating the background paper to patch in any spaces and repair the most grievous damage and soiling. Because of this you will notice edit marks on some of the backgrounds. Many I have further edited to remove the background paper, offering them as PNG images with transparent backgrounds. All images have been edited and cleaned up, and much of the text removed. James Ellsworth De Kay (1792-1851) was a naturalist who lived at the same time as John James Audubon (1785-1851). Audubon's plates are, of course, much more famous and scarce. De Kay's however, are very beautiful, with detailed lithography and wonderful colors. These images are from his 1844 Birds of New York, fully titled: Zoology of New York, or the New-York Fauna, Part II, Birds. It was produced in very limited numbers, so few intact copies of the book with the original hand colored plates still exist. De Kay's work remained the standard in the field until the publication of Elon Howard Eaton's 1910-1914 work which was part of the New York State Museum's Memoirs. J. W. (John William) Hill (1812–1879) was a British born artist whose work with the New York State Survey included many projects other than ornithology. His paintings and engravings are in the collections of many major museums, including The Metropolitan Museum of Art and The Brooklyn Museum. Nomenclature is from the book. Species and common names have in many cases changed over the decades, and in some cases I may have added more updated common names as I have been able. Latin names are unchanged from the text. It is often hard to tell what the product will actually look like, especially on shirts, prints and other larger scale products. This product is made from a very high resolution file which gives intricate detail and wonderful resolution. Directly below is a sample detail at one-third resolution taken from the master files used to create our products, which should give a better idea of what the resolution on the product will look like. This may not be the exact plate shown for sale (it is Figure 87, The Red-throated Hummingbird, from plate XL), but all these bird images are made from a similar sized files. If you click the image it will open a larger detail image file to view at the original sale used for this product. This larger detail file can be viewed at full resolution. Options such as border sizes, background and border colors, and certain text may be edited and changed if you like. Just click the customize button. This image has been edited to adjust for age and discoloration, and to repair any major defects. Image courtesy of OldBookArt.com.
There are no reviews for this product yet.
Product ID: 172576503907353030
Created on: