Viking: The First Landing on Mars! Decals For The iPhone 4
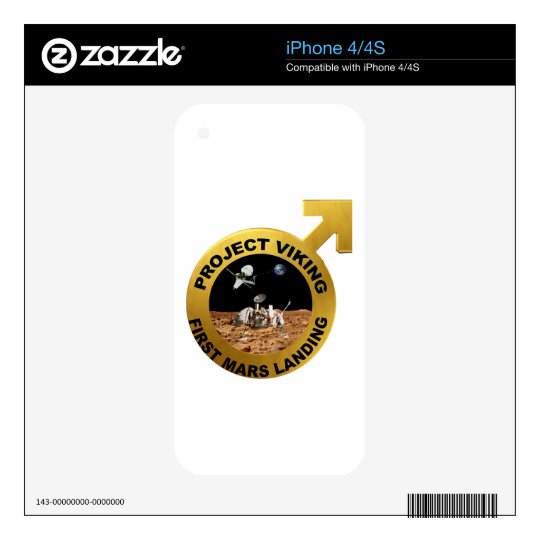 Model: iPhone 4/4S
Express your personal style and defend your device with a custom iPhone 4/4S skin! Made of ultrathin and super-durable 3M vinyl, Zazzle iPhone 4/4S skins feature patented air release technology for a smooth, zero-bubble surface that protects your device from everyday scratches and scuffs without adding bulk. Printed and laminated with the highest quality standards and precision fitted for your iPhone 4/4S, this custom skin will look sharp and brilliant with your designs, photos, and text.
Made in the USA - 3M vinyl featuring patented air release technology.
No bulk – Seamlessly integrates with all cases, docks, arm bands, and bags.
Super tough, laminated skins protects device from scratches.
Easy peel on and off. No sticky residue.
100% satisfaction guaranteed.
Viking: The First Landing on Mars! Decals For The iPhone 4
The Viking 1 and Viking 2 Mars orbiters were enlarged versions of the Mariner 9 spacecraft. Mariner 4, launched on November 28, 1964, was the first successful flyby of the planet Mars and gave the first glimpse of Mars at close range. Mariner 6 was launched on February 24, 1969, followed by Mariner 7 on March 21, 1969. They flew over the equator and southern hemisphere of the planet Mars. Mariner 9, was launched in May 1971 and became the first artificial satellite of Mars. It entered Martian orbit in November 1971. The Viking program comprised a pair of American space probes sent to Mars, Viking 1 and Viking 2. .Each spacecraft was composed of two main parts: an orbiter designed to photograph the surface of Mars from orbit, and a lander designed to study the planet from the surface. The orbiters also served as communication relays for the landers once they touched down. Viking 1 and 2 were launched on August 20 and September 9, 1975, respectively. They successfully landed on Mars on July 20 (!) and September 5, 1976 respectively. We do special orders and customization and its always free. We are officially licensed by NASA!! So...want a NASA, JPL or ESA logo on the back or inside of a a product??
There are no reviews for this product yet.
Product ID: 134521282680965718
Created on: