Virgin of the Rocks by Leonardo da Vinci Photo Print
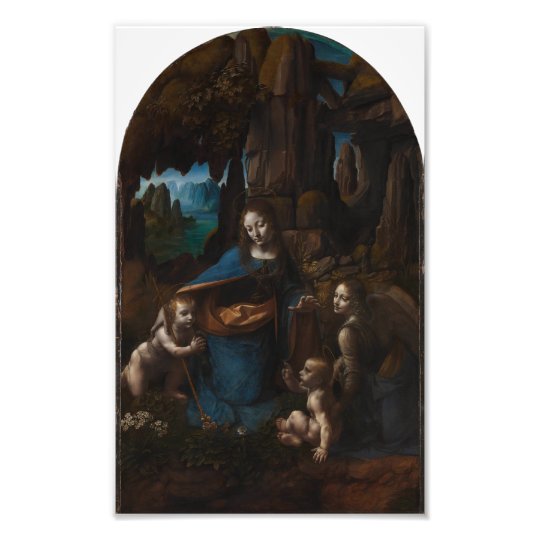 Media: Kodak Professional Photo Paper (Satin)
Developed specifically for darkroom printing, Kodak photographic paper is a premium silver-halide paper designed to dramatically enhance colors, while maintaining consistent tonal reproduction.
Virgin of the Rocks by Leonardo da Vinci Photo Print
Virgin of the Rocks by Leonardo da Vinci, tempera and oil painting on wood panel, depicts the Virgin Mary, Christ child, infant John the Baptist and an angel in a an enigmatic landscape beneath an arch of rocks. One of two versions of this composition, the painting is an exemplary example of da Vinci's incomparable draftsmanship and mastery of the human form, his command of chiaroscuro modeling and unique sfumato ("smoky") technique of light revealing form. Leonardo da Vinci (1452 - 1519) was the greatest master of the High Italian Renaissance and quintessential "Renaissance Man" whose work as painter, sculptor, architect, inventor, anatomist and much more is without comparison. Born near Florence, Italy, and apprenticed to the painter Verrocchio, Leonardo invented many new ideas and extended the principles of perspective drawing, aerial perspective, the human figure and anatomy and much else to heights never seen since, during the period of rediscovery of the arts and philosophy of classical antiquity. Widely regarded as possibly the greatest artist who ever lived, Leonardo left very few completed paintings, due to either his restless experiments with painting technique that sometimes failed, or his infamous habit of procrastination.
There are no reviews for this product yet.
Product ID: 190729691218804762
Created on: