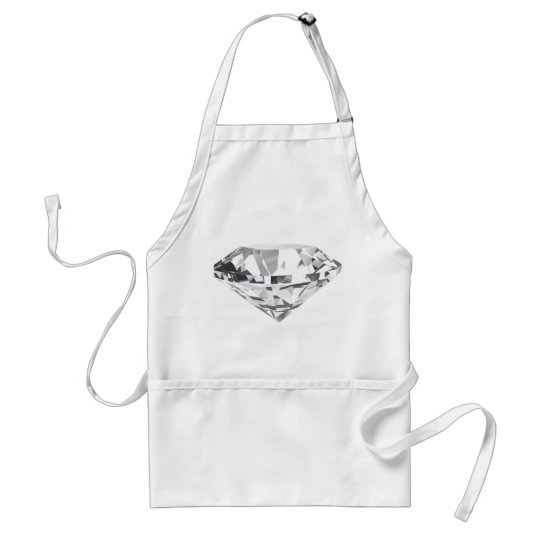 The glitter and rhinestone elements are simulated in the artwork by the designer. These elements will not be used in the making of this product.
Ö
Details
Details
Details

Size: Standard Apron
You won't have to kiss the cook if you get them one of these classic aprons. It's super useful with its three spacious front pockets - perfect for all your utensils and tools. Select a design from our marketplace or customize it and unleash your creativity!
Dimensions: 24"l x 28"w
Made from a 35/65 cotton-poly twill blend
Machine washable
Made in U.S.A.

The glitter and rhinestone elements are simulated in the artwork by the designer. These elements will not be used in the making of this product.
White Gem Adult Apron
Black: Chakra - 1st Chakra: Root Chakra - Grounding, Focus, and Survival Dark colored crystals are very grounding, and deepen our connection to all things physical, (the natural being).They help relieve us of fears specifically associated with our physical existence here on earth. They act as a shield, protecting and deflecting negative energy.All dark stones - Black, Brown, and Deep Grey, are associated with the Root Chakra, and with survival here on earth. They govern our relationship with the physical world and our bodies.If you have trouble seeing yourself, your body and it attributes as they really are, or have trouble accepting your shape, height, weight, color, etc, wear a necklace or bracelet of dark stones will help you to own and accept your appearance here on earth. Spiritually Effects - Protection, Independence, Mystic Allure Black gives you. Solid, grounded, powerful, in control, protected, shielded, confident, and fearless. Black Chakra Stones: Apache Tears, Hematite, Black Sapphire, Black Agate, Black Tourmaline, Jet, Obsidian, Onyx, Red Black Obsidian, Sardonyx, Serpentine, Snowflake Obsidian Keywords - Banishing, protection, absorption & destruction of negative energy, rest. Mysterious, Independent, Strength, Fascination, Allure The st effective way to add the power of black or correct a balance in the 1st Chakra is thru adding natural black crystals and gemstones to your everyday wardrobe so they are close to you for several hours at a time and touching your skin, (the pulse points: ears, wrists, ankles, and neckline) and thus effecting your aura and Root Chakra. White: Element - Air Aligned with the on Faith, Purity, Innocence, Truth, Peace & Humility White is the color of purity, innocence, and truth. White stones are connected to sleep, insomnia, dreams, visions, and the Goddess. She rules the night and the dream world, fertility, pregnancy, lactation, and the menstrual cycle. To much white, and we feel Cold, Drained, Lifeless, Bare, Vacant Keywords for white stones are - Peace, purity, sincerity, protection, spirituality, Humility, ritual, on, goddess, new beginnings, totality, endless possibilities, innocence. White Stones - Pearls, Apophyllite, onstone, Opal, Selenite, Snow Quartz, White Beryl, White Calcite, White Danburite, White Lepidolite, White Topaz.
There are no reviews for this product yet.
Product ID: 154153247473391686
Created on: