World Series McGraw Giants Baseball 1912 Postage
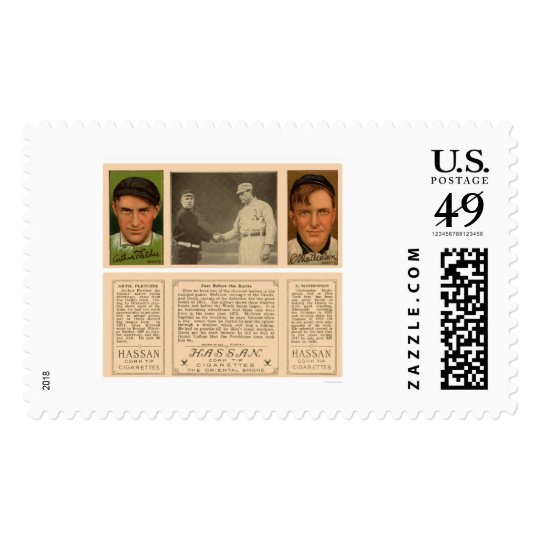 Size: Large, 2.5" x 1.5"
Make each letter a special delivery with a sheet of Zazzle Custom Stamps! Put a personal touch on your mail, or share this useful gift with friends and family. Zazzle's large custom postage are especially perfect for standard letters and larger envelopes.
Dimensions:

Landscape - Postage: 2.5"l x 1.5"w; Image: 1.7"l x 1.2"w
Portrait - Postage: 1.5"l x 2.5"w; Image: 1.2"l x 1.7"w

Image aspect ratio: 5 x 7
20 Zazzle Custom Stamps per sheet
Choose from twelve postage denominations:

$0.34: Post Card
$0.49: 1st Class Letter, 1 oz
$0.70: 1st Class Letter, 2 oz or 1 oz odd
$0.91: 1st Class Letter, 3 oz or 2 oz odd
$0.98: 1st Class Large Envelope, 1 oz
$1.12: 1st Class Letter, 3 oz odd
$1.19: 1st Class Large Envelope, 2 oz
$1.40: 1st Class Large Envelope, 3 oz
$1.61: 1st Class Large Envelope, 4 oz
$1.82: 1st Class Large Envelope, 5 oz
$2.03: 1st Class Large Envelope, 6 oz
$6.45: Priority (up to 16 oz)

Disclaimer: The rates and services provided above serve as a general guide. Please consult with your local Post Office™ for the exact rates needed for your mail.
World Series McGraw Giants Baseball 1912 Postage
From Zazzle's amazing collection of vintage baseball memorabilia, this commemorative U.S. postage stamp features a print of the front and back of a rare, vintage baseball card depicting Hall of Famer John McGraw of the New York Giants shaking hands with the Athletics captain Davis before the start of the World Series bounded by pictures of Arthur Fletcher and Hall of Famer Christy Mathewson; underneath is the back of the card colorfully describing the players and the play itself; produced by the American Tobacco Company for its Hassan Triple Folders Cork Tip Cigarettes Series in 1912.
There are no reviews for this product yet.
Product ID: 172693155668476729
Created on: