Yolly Bolly California Insects Arachnid Bug Fauna Card
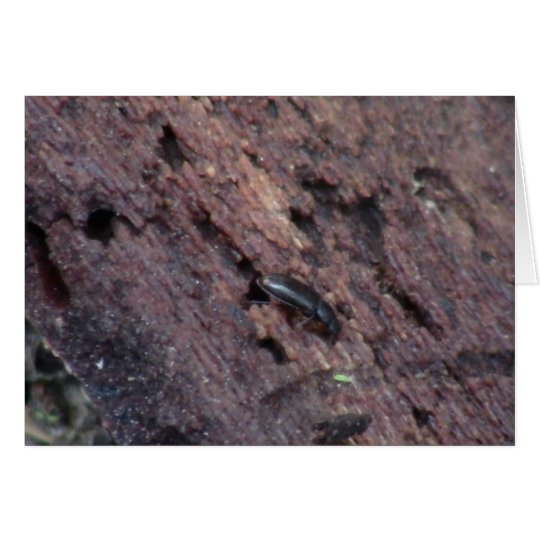 12.5 pt thickness / 110 lb weight
Bright white, semi-gloss finish
Details
Details
Details
Small (4.25" x 5.5")
- $0.65
Details

Size: Standard (5" x 7")
Birthdays or holidays, good days or hard days, Zazzle's customized greeting cards are the perfect way to convey your wishes on any occasion. Add a photo or pick a design and brighten someone's day with a simple "hi"!
Dimensions: 5" x 7" (portrait) or 7" x 5" (landscape)
Full color CMYK print process
All-sided printing for no additional cost
Printable area on the back of the card is 3" x 4" (portrait) or 4" x 3" (landscape)
Standard white envelopes included
Paper Type: Semi-Gloss
A thin, smooth paper designed for photo printing with the optimal color vibrancy —a solid choice for all your printing needs.
Bright white, semi-gloss finish
Semi-gloss finish helps photos pop
40% post-consumer content
Made and printed in the USA
Yolly Bolly California Insects Arachnid Bug Fauna Card
This video still was taken from our expedition video, Yolly Bolly Expedition shot on location in California. I'm Michael C. Clark Naturalist, Explorer, and Cinematographer. My compañero Loganapithicus and I travel the world in search of unique ecosystems to explore and document cinéma-vérité style. Our expeditions usually take place in an area of five square miles or less within a duration of 7-21 days and we focus on the entire ecosystem plants, animals, geology, weather, and more. We do not specifically seek out, bait, or wait for species, we film what we encounter as we explore the ecosystem on foot. The purpose of our expeditions is to help in homo sapien's ceaseless quest for knowledge by documenting the ecosystems as they are forever changing with plant Earth as they have for billions of years. Our ecosystem videos can be viewed FREE by anyone and used for nonprofit educational instruction and testing purposes as well as scientific study of the ecosystems. Therefore we have left out narrations and used music in the background when no natural sound is available, ultimately leaving the videos for self interpretation, individual discovery, and for professors to explain or show as examples in a classroom setting. We are unable to film every species in the selected ecosystems, as it is impossible to get everything in such a short time frame, one could spend an entire lifetime studying an ecosystem of planet Earth and still never see it all. No plant or animal species were harmed during our expeditions, all species are filmed in their natural habitat and are not coerced or paid for any performances. This is Mother Nature's movie if you have script questions please direct them towards her. Created by the Wilderness Act of 1964, the land area was originally 170,195 acres (68,875 ha). The wilderness area was enlarged by the California Wilderness Act of 1984, and again by the Northern California Coastal Wild Heritage Wilderness Act of 2006, for a present total of 180,877 acres (73,198 ha)[1]. Most of it (172,998 acres) is managed by the US Forest Service and is within several national forest boundaries which are: Mendocino, Shasta-Trinity and Six Rivers national forests. The balance of 7,879 acres (31.89 km2) is on Bureau of Land Management land. The name is from the Wintun Native American language and means "snow-covered high peak". Elevations range from 2,700 feet (820 m) to 8,092 feet (2,466 m)[2] at Mount Linn. The wilderness has Coast Range and Klamath montane, mixed evergreen and Douglas fir forest types. Conifers include the California endemic foxtail pine, ponderosa pine, red and white firs, western white pine, sugar pine and incense-cedar. Other tree species include oaks, cottonwoods, and the rare Pacific yew. The area includes wet meadows and open grasslands supporting abundant deer herds (as well as cattle and sheep). Lower elevations have chamise, manzanita, and ceanothus. Wildlife in the wilderness includes bear, deer, gray fox, mountain lion, bobcat, coyote, ringtail, northern flying squirrel, fisher and martin. The Northern Spotted Owl can be found here, as well as eagles, hawks, turkey vultures and smaller birds like grouse, quail, and bandtailed pigeon. Rainbow trout live in most larger streams, such as in the South Fork of Cottonwood Creek, and in Black Rock Lake. The Middle Fork Eel River watershed has summer- and winter-run steelhead and spring-run chinook salmon, but fishing is restricted. Rocks in the northern mountains are predominantly gray greenstone while the southern mountains include sandstone and serpentine of the Franciscan formation. Circque basins from former glaciers are seen above about 6,000 feet (1,800 m) elevation. Extensive faulting in the rocks makes the region prone to erosion, slumping and landslides. One modern landslide near Ides Cove, on the north flank of Mount Linn, reached more than two miles (3 km) toward the South Fork Cottonwood Creek[6], upending old-growth forests and leaving large fissures on its perimeter. Insects (from Latin insectum, a calque of Greek ἔντομον [éntomon], "cut into sections") are a class of invertebrates within the arthropod phylum that have a chitinous exoskeleton, a three-part body (head, thorax, and abdomen), three pairs of jointed legs, compound eyes, and one pair of antennae. They are among the most diverse groups of animals on the planet, including more than a million described species and representing more than half of all known living organisms.[2][3] The number of extant species is estimated at between six and ten million,[2][4][5] and potentially represent over 90% of the differing metazoan life forms on Earth.[6] Insects may be found in nearly all environments, although only a small number of species occur in the oceans, a habitat dominated by another arthropod group, crustaceans. The life cycles of insects vary (from one day to a few years), but most hatch from eggs. Insect growth is constrained by the inelastic exoskeleton and development involves a series of molts. The immature stages can differ from the adults in structure, habit and habitat, and can include a passive pupal stage in those groups that undergo complete metamorphosis. Insects that undergo incomplete metamorphosis lack a pupal stage and adults develop through a series of nymphal stages.[7] The higher level relationship of the hexapoda is unclear. Fossilized insects of enormous size have been found from the Paleozoic Era, including giant dragonflies with wingspans of 55 to 70 cm (22–28 in). The most diverse insect groups appear to have coevolved with flowering plants. Insects typically move about by walking, flying or sometimes swimming. As it allows for rapid yet stable movement, many insects adopt a tripedal gait in which they walk with their legs touching the ground in alternating triangles. Insects are the only invertebrates to have evolved flight. Many insects spend at least part of their lives underwater, with larval adaptations that include gills, and some adult insects are aquatic and have adaptations for swimming. Some species, such as water striders, are capable of walking on the surface of water. Insects are mostly solitary, but some, such as certain bees, ants, and termites, are social and live in large, well-organized colonies. Some insects, such as earwigs, show maternal care, guarding their eggs and young. Insects can communicate with each other in a variety of ways. Male moths can sense the pheromones of female moths over great distances. Other species communicate with sounds: crickets stridulate, or rub their wings together, to attract a mate and repel other males. Lampyridae in the beetle order Coleoptera communicate with light. Humans regard certain insects as pests, and attempt to control them using insecticides and a host of other techniques. Some insects damage crops by feeding on sap, leaves or fruits, a few bite humans and livestock, alive and dead, to feed on blood, and some are capable of transmitting diseases to humans, pets and livestock. Nevertheless, without insects to pollinate flowering plants, a necessary process in their reproduction, the terrestrial portion of the biosphere (including humans) would be devastated, as a great many organisms rely on flowering plants.[8] Many other insects are considered ecologically beneficial as predators and a few provide direct economic benefit. Silkworms and bees have been used extensively by humans for the production of silk and honey, respectively. A butterfly is a mainly day-flying insect of the order Lepidoptera, which includes the butterflies and moths. Like other holometabolous insects, the butterfly's life cycle consists of four parts: egg, larva, pupa and adult. Most species are diurnal. Butterflies have large, often brightly coloured wings, and conspicuous, fluttering flight. Butterflies comprise the true butterflies (superfamily Papilionoidea), the skippers (superfamily Hesperioidea) and the moth-butterflies (superfamily Hedyloidea). All the many other families within the Lepidoptera are referred to as moths. The earliest known butterfly fossils date to the mid Eocene epoch, between 40–50 million years ago.[1] Butterflies exhibit polymorphism, mimicry and aposematism. Some, like the Monarch, will migrate over long distances. Some butterflies have evolved symbiotic and parasitic relationships with social insects such as ants. Some species are pests because in their larval stages they can damage domestic crops or trees; however, some species are agents of pollination of some plants, and caterpillars of a few butterflies (e.g., Harvesters) eat harmful insects. Culturally, butterflies are a popular motif in the visual and literary arts. Arachnids are a class (Arachnida) of joint-legged invertebrate animals in the subphylum Chelicerata. All arachnids have eight legs, although the front pair of legs in some species has converted to a sensory function, while in other species, different appendages can grow large enough to take on the appearance of extra pairs of legs. The term is derived from the Greek word ἀράχνη (aráchnē), meaning "spider".[2] Almost all extant arachnids are terrestrial. However, some inhabit freshwater environments and, with the exception of the pelagic zone, marine environments as well. They comprise over 100,000 named species, including spiders, scorpions, harvestmen, ticks, mites and Solifugae.[3] Spiders (order Araneae) are air-breathing arthropods that have eight legs and chelicerae with fangs that inject venom. They are the largest order of arachnids and rank seventh in total species diversity among all other groups of organisms.[1] Spiders are found worldwide on every continent except for Antarctica, and have become established in nearly every habitat with the exception of air and sea colonization. As of 2008, approximately 40,000 spider species, and 109 families have been recorded by taxonomists;[2] however, there has been confusion within the scientific community as to how all these families should be classified, as evidenced by the over 20 different classifications that have been proposed since 1900.[3] Anatomically, spiders differ from other arthropods in that the usual body segments are fused into two tagmata, the cephalothorax and abdomen, and joined by a small, cylindrical pedicel. Unlike insects, spiders do not have antennae. In all except the most primitive group, the Mesothelae, spiders have the most centralized nervous systems of all arthropods, as all their ganglia are fused into one mass in the cephalothorax. Unlike most arthropods, spiders have no extensor muscles in their limbs and instead extend them by hydraulic pressure. Their abdomens bear appendages that have been modified into spinnerets that extrude silk from up to six types of silk glands within their abdomen. Spider webs vary widely in size, shape and the amount of sticky thread used. It now appears that the spiral orb web may be one of the earliest forms, and spiders that produce tangled cobwebs are more abundant and diverse than orb-web spiders. Spider-like arachnids with silk-producing spigots appeared in the Devonian period about 386 million years ago, but these animals apparently lacked spinnerets. True spiders have been found in Carboniferous rocks from 318 to 299 million years ago, and are very similar to the most primitive surviving order, the Mesothelae. The main groups of modern spiders, Mygalomorphae and Araneomorphae, first appeared in the Triassic period, before 200 million years ago. A herbivorous species, Bagheera kiplingi, was described in 2008,[4] but all other known species are predators, mostly preying on insects and on other spiders, although a few large species also take birds and lizards. Spiders use a wide range of strategies to capture prey: trapping it in sticky webs, lassoing it with sticky bolas, mimicking the prey to avoid detection, or running it down. Most detect prey mainly by sensing vibrations, but the active hunters have acute vision, and hunters of the genus Portia show signs of intelligence in their choice of tactics and ability to develop new ones. Spiders' guts are too narrow to take solids, and they liquidize their food by flooding it with digestive enzymes and grinding it with the bases of their pedipalps, as they do not have true jaws. Male spiders identify themselves by a variety of complex courtship rituals to avoid being eaten by the females. Males of most species survive a few matings, limited mainly by their short life spans. Females weave silk egg-cases, each of which may contain hundreds of eggs. Females of many species care for their young, for example by carrying them around or by sharing food with them. A minority of species are social, building communal webs that may house anywhere from a few to 50,000 individuals. Social behavior ranges from precarious toleration, as in the widow spiders, to co-operative hunting and food-sharing. Although most spiders live for at most two years, tarantulas and other mygalomorph spiders can live up to 25 years in captivity. While the venom of a few species is dangerous to humans, scientists are now researching the use of spider venom in medicine and as non-polluting pesticides. Spider silk provides a combination of lightness, strength and elasticity that is superior to that of synthetic materials, and spider silk genes have been inserted into mammals and plants to see if these can be used as silk factories. As a result of their wide range of behaviors, spiders have become common symbols in art and mythology symbolizing various combinations of patience, cruelty and creative powers.
There are no reviews for this product yet.
Product ID: 137422027928663504
Created on: