ANDROIDS ,CYBORGS FROM HYPERION WORLD 2017 Sci-Fi Calendar
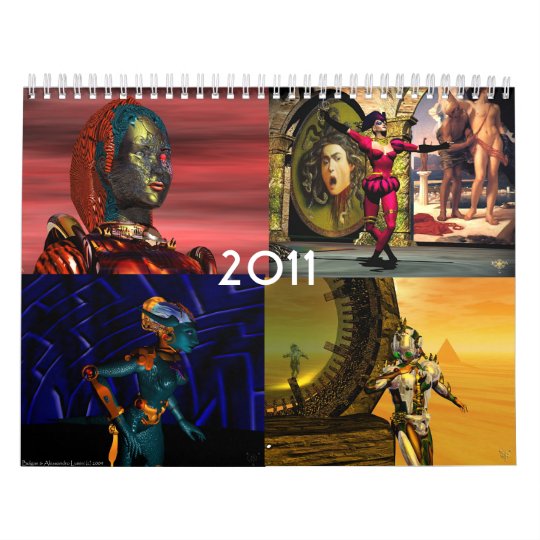 Layout: Two Page
Make each day an important occasion with a customized calendar from Zazzle. You can add photos for each month, and even use our Calendar Grid Transparency to mark off important family and life events. A great gift to hand out or just to hang in your home or office!
Available in 3 sizes:

Small: 5.5"l x 7"w
Medium: 8.5"l x 11"w
Large: 11"l x 14.25"w

Printed on sturdy high-quality paper with vibrant full-color, full-bleed printing
Choose from 16 unique grid styles, 21 language & culture styles and 4 holiday & event templates
Pick your own year, start and end dates, and calendar length
Wire binding available 7 different colors
Perfect holiday gift for family members
ANDROIDS ,CYBORGS FROM HYPERION WORLD 2017 Sci-Fi Calendar
The project Hyperion World that we are making, is a 3D animation movie and will be approx. 90 minutes. This is a self produced independent film .D. 3633 Hyperion is a blue planet similar to the our Earth ...but placed in solar system of the star Eta Cassiopeiae A. Protagonists of this movie are only dreaming androids, cyber-sorcerers, digital avatars.. because ,human beings are already extinguished from about one thousand years Hyperion's " cyber-avatars "...discover two close and interesting "red desert planets "in another solar system of another galaxy : one of these planets results them our Mars, the other desert planet is just the Earth and it is also desolated . Meanwhile, from the deep space a solitary and spectral pirate-space vessel Giordano Bruno is coming to Hyperion's orbit ; there are only two figures on board: an android nanotech (Xenia) and a cyborg old generation (Briar). This artificial equipage is the unique testimony that remains of presence of the human being in the universe... but the story continues.... ANDROID BALLET Teaser from feature film work in progress HYPERION WORLD All rights reserved. .
There are no reviews for this product yet.
Product ID: 158847463740317317
Created on: