When you've got some big news to share, you need to shout it out! Zazzle's eye-catching custom banners are here to help. Our vibrant and durable banners turn any occasion into a noteworthy event. Make a custom message that lasts!
Shop and Search Banners By Occasion
Vinyl Banners
Bunting Flags
Retractable Banners
MATERIAL:
It's not just your message that's custom – you get to pick the banner material your message is printed on as well! Choose our smooth indoor vinyl for events like parties or conferences, or opt for our durable outdoor vinyl to hang your banner for the whole world to see.

DURABILITY:
You need to make sure your message lasts. Our long-lasting banner materials and neatly hemmed edges help provide weight to keep your banner flying high and free from fraying. Our high-quality printing stays vibrant for months in the sun without fading, meaning your special signage will last for seasons to come!
CHOOSING BETWEEN INDOOR AND OUTDOOR BANNERS:
In most instances, an outdoor banner is a better choice over an indoor banner because it's more hearty and durable. There are two big reasons why someone should choose the indoor banner over the one for outdoors
• The smooth outer surface will print complicated graphics in a sharper, more dynamic way
• There is a 'block out' layer that keeps sunlight from shining through the vinyl. This is important if the banner is hung in the middle of a well-lit room.
INDOOR:
Our indoor banner material is lightweight but durable. The 12 oz. vinyl is perfect for indoor or short-term outdoor use. This white flexible material comes with an elegant matte finish, and is both fade and tear resistant. It also features a 1" fray-free hem around all of the edges for a clean and neat finish.
• Tensile Strength: 88x91
• Tear Strength: 17x18
• Yarn Denier: 300x300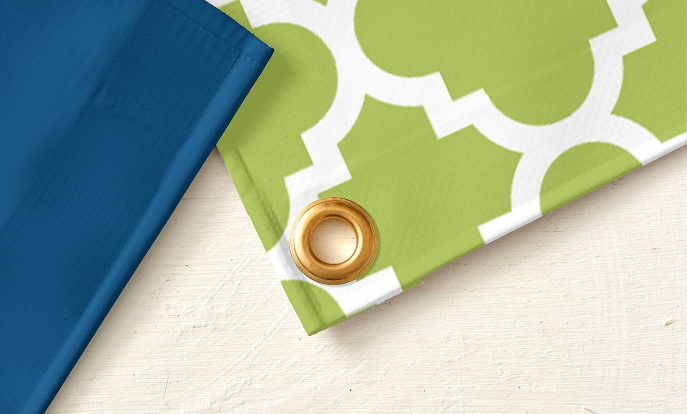 OUTDOOR:
Our reliable outdoor banner material is a heavier 13 oz. vinyl with a slightly more textured appearance. Like our indoor banners it features a 1" fray-free hem around all edges for a clean and neat finish.
• Tensile Strength: 228x205
• Tear Strength: 60x51
• Yarn Denier: 1100x1100
Optional brass grommets (3/8" inner diameter, 3/4" outer diameter) are spaced every 2 feet along length of banner for secure hanging.
Accessories: So We Don't Leave You Hanging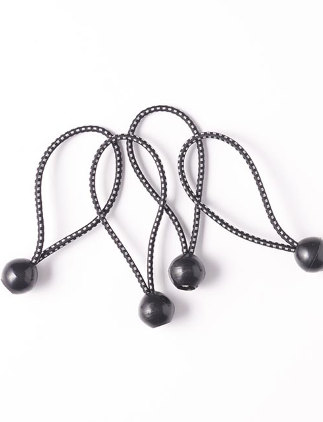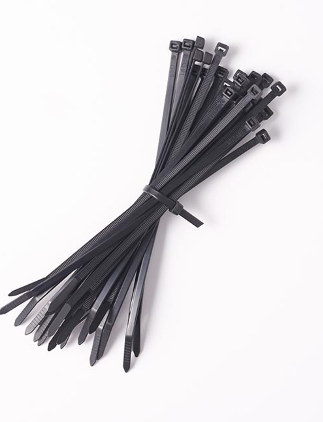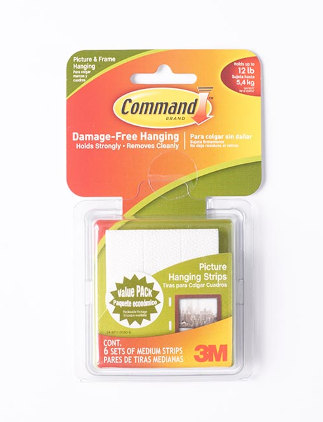 We know getting the word out is all about location, location, location. Pick the perfect accessories to hang your banner where it's sure to catch eyes by adding tear-resistant metal grommets, clear adhesives, flexible bungee balls, heavy-duty zip ties, or long-lasting 3M adhesive strips that won't damage your walls.

• Bungee balls: Great for hanging on poles or posts, adding flexibility for windy conditions and preventing tears.

• Zip ties: Super secure attachment to fences and more – a perfect combination with our metal grommets.

• 3M Command Strips: Strong hold that won't damage walls Make your message stick without drawing attention from your banner itself. Perfect for walls.

• Power Tabs: These power tabs easily adhere to the banner corners and provide a sturdy foundation to fasten rope or zip ties.

• Metal grommets: Help distribute weight evenly so your banner won't tear or fray *Available for outdoor banners only.

More To Love