black gold volleyball team colors argyle fleece blanket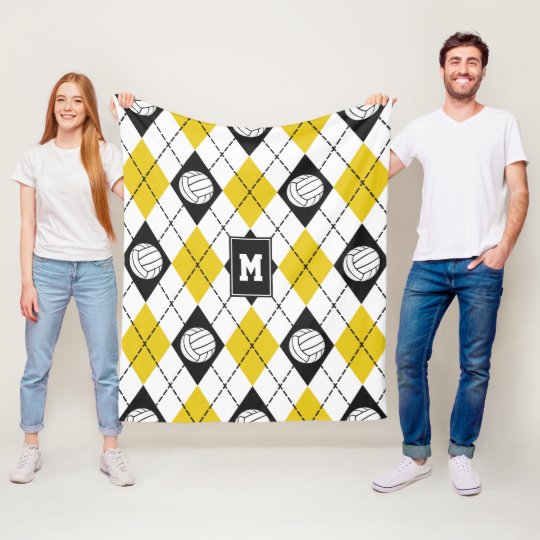 Independent artist's design is previewed with RealView™ technology; content may not match model.
About This Product
Sold by
Size: Fleece Blanket, 50"x60"
It's hard to cuddle by yourself. But with these fully customizable comfy fleece blankets, you won't have to anymore. Customize the entire front panel and wrap yourself in personalized plush luxury. Delicate, soft and colorful, it's the perfect blanket for picnics in the park, outdoor events, and cozy winter snuggles.
Available in 3 different sizes: small (30"x40"); medium(50" x 60"); large(60" x 80").
100% buttery soft and cozy polyester fleece
Edge-to-edge sublimation printing in vibrant full color
Sturdy double edge stitching for a clean finish
Back color is off-white
Machine washable, gentle cycle, mild detergent
Tumble dry low
This product is recommended for ages 13+
About This Design
black gold volleyball team colors argyle fleece blanket
This sporty volleyball team colors fleece blanket features a black, gold and white argyle plaid pattern with black "stitching" extending diagonally across the diamond shapes and white volleyballs overlying the black diamond shapes - customize with athlete's monogram - by katz_d_zynes
FREE SHIPPING WITH ZAZZLE BLACK MEMBERSHIP
Reviews
There are no reviews for this design yet.
Have you purchased this product?
Other Info
Product ID: 256062947497719788
Created on:
11/11/2020, 6:53 AM