Hiker Silhouette Emblem Graphic Design Backpacker Travel Mug
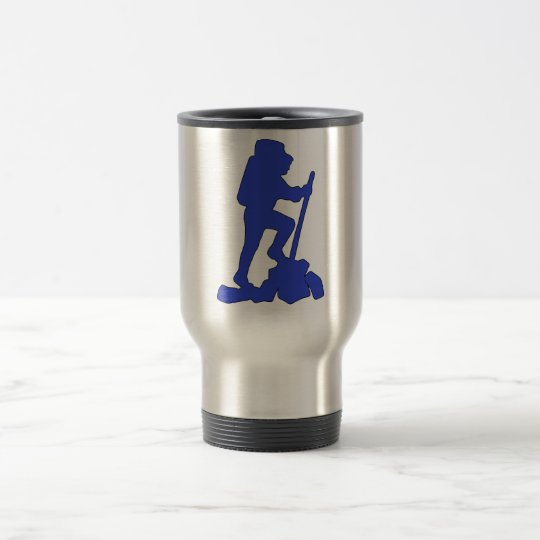 Style: Travel/Commuter Mug
You don't have to give up a colorful, funny, or attractive design for the function of a top-notch travel mug. Zazzle's commuter mugs feature a rubber-lined lid for a tight, spill-resistant seal, twist the lid to reveal the sip opening! So, take your favorite photo, monogram, pattern, or cool design with you on your new favorite mug.
Dimension: 3.5" diameter x 6.2" h; 14-ounce capacity
Materials: Stainless steel body; plastic handle and base; rubber-lined plastic lid
Double-walled stainless steel helps will keep your drink of choice hot
Do not microwave; hand wash recommended
Printed on demand in San Jose, California
Hiker Silhouette Emblem Graphic Design Backpacker Travel Mug
In Europe it is also referred to as alpinism, while in the Americas the term refers to a particular style of mountain climbing, that involves a mixture of ice climbing, rock climbing, mixed climbing, and where the climbers carry all their loads with them at all times. In the Himalayan regions the style of mountaineering is Expedition. While mountaineering began as attempts to reach the highest point of unclimbed mountains, it has branched into specializations that address different aspects of the mountain and consists of three areas : rock-craft, snow-craft and skiing, depending on whether the route chosen is over rock, snow or ice. All require experience, athletic ability, and technical knowledge to maintain safety. The UIAA or Union Internationale des Associations d'Alpinisme is the world governing body in mountaineering and climbing, addressing issues like Access, Medical, Mountain Protection, Safety, Youth and Ice Climbing. Hiking is an outdoor activity which consists of walking in natural environments, often on hiking trails. It is such a popular activity that there are numerous hiking organizations worldwide. The health benefits of different types of hiking have been confirmed in studies. The word hiking is understood in all English-speaking countries, but there are differences in usage. In the United States and United Kingdom, hiking refers to cross-country walking of a longer duration than a simple walk and usually over terrain where hiking boots are required.[2] A day hike refers to a hike that can be completed in a single day, often applied to mountain hikes to a lake or summit, but not requiring an overnight camp, in which case the term backpacking is used. Bushwhacking specifically refers to difficult walking through dense forest, undergrowth, or bushes, where forward progress requires pushing vegetation aside. In extreme cases of bushwhacking where the vegetation is so dense that human passage is impeded, a machete is used to clear a pathway. Australians use the term bushwalking for both on- and off-trail hiking and occasionally tramping for overnight walks. New Zealanders use tramping (particularly for overnight and longer trips), walking or bushwalking. Multi-day hiking in the mountainous regions of India, Nepal, North America, South America, and in the highlands of East Africa is also called trekking. Walking (also called ambulation) is one of the main gaits of locomotion among legged animals, and is typically slower than running and other gaits. Walking is defined by an 'inverted pendulum' gait in which the body vaults over the stiff limb or limbs with each step. This applies regardless of the number of limbs - even arthropods with 6, eight or more limbs.Backpacking (in US; tramping, trekking, or bushwalking in other countries) combines hiking and camping in a single trip. A backpacker hikes into the backcountry to spend one or more nights there, and carries supplies and equipment to satisfy sleeping and eating needs. A backpacker packs all of his or her gear into a backpack. This gear must include food, water, and shelter, or the means to obtain them, but very little else, and often in a more compact and simpler form than one would use for stationary camping. A backpacking trip must include at least one overnight stay in the wilderness (otherwise it is a day hike). Many backpacking trips last just a weekend (one or two nights), but long-distance expeditions may last weeks or months, sometimes aided by planned food and supply drops. Backpacking camps are more spartan than ordinary camps. In areas that experience a regular traffic of backpackers, a hike-in camp might have a fire ring and a small wooden bulletin board with a map and some warning or information signs. Many hike-in camps are no more than level patches of ground without scrub or underbrush. In very remote areas, established camps do not exist at all, and travelers must choose appropriate camps themselves. In some places, backpackers have access to lodging that is more substantial than a tent. In the more remote parts of Great Britain, bothies exist to provide simple (free) accommodation for backpackers. Another example is the High Sierra Camps in Yosemite National Park. Mountain huts provide similar accommodation in other countries, so being a member of a mountain hut organization is advantageous (perhaps required) to make use of their facilities. On other trails (e.g. the Appalachian Trail) there are somewhat more established shelters of a sort that offer a place for weary hikers to spend the night without needing to set up a tent. Most backpackers purposely try to avoid impacting on the land through which they travel. This includes following established trails as much as possible, not removing anything, and not leaving residue in the backcountry. The Leave No Trace movement offers a set of guidelines for low-impact backpacking ("Leave nothing but footprints. Take nothing but photos. Kill nothing but time. Keep nothing but memories").
Artwork designed by
.

Chalon-sur-Saône, Saône-et-Loire, Saône-et-Loire
There are no reviews for this product yet.
Product ID: 168064553759423320
Created on: