Personalized Irish Heritage Christmas Photo Large Christmas Stocking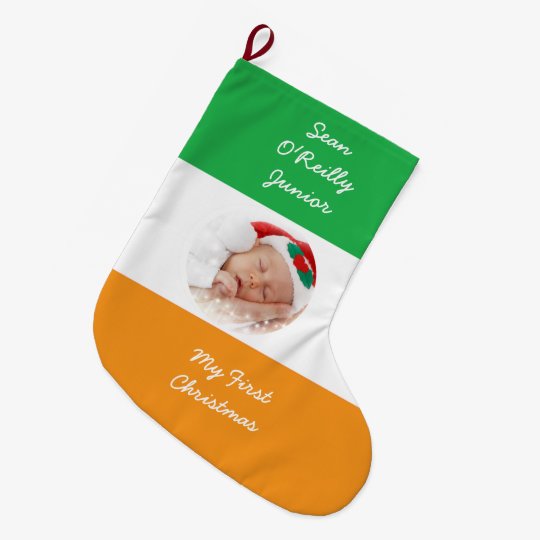 Design is previewed with RealView™ technology.
Personalize this template
Sold by
Size: Christmas Stocking (12" x 20")
Stop Santa in his tracks this year with fabulous one-of-a-kind stockings. Made from bright and vividly printed polyester, these stockings are too pretty for coal. Give holiday cheer when you gift a 100% personalized stocking decorated with favorite pictures, treasured memories, cherished quotes, and more. The perfect addition to brighten any holiday mantle decor.
Dimensions: 12" x 20"
Material: Available in 3 different styles; all 100% polyester
Sturdy sewn-in loop for hanging
Machine washable, lay flat to dry
Made in USA
Personalized Irish Heritage Christmas Photo Large Christmas Stocking
Add Irish baby's photo to this Personalized Irish Heritage Christmas Stocking with the Tricolour flag of the Republic of Ireland, the Trídhathach na hÉireann, as a background and add his or her name and/or special message to create a unique keepsake to commemorate his or her first holiday celebration which can be passed down to future generations. Alternately, you could add a family photo. You could even add a photograph of your Irish girlfriend or boyfriend and fill with her or his favorite sweets. Please note: There are three lines for the name, so you can add a middle name or a "junior" if desired. When adding a pic, be sure to double-check position and/or resize as desired.
There are no reviews for this product yet.
Have you purchased this product?
Product ID: 256030279566601561
Created on:
11/9/2014, 9:18 PM